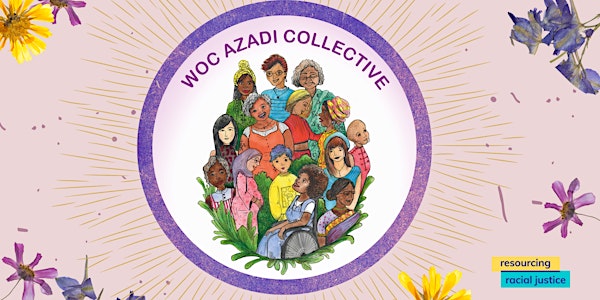 Connecting through collective remembering and story telling
Connecting with ourselves and each other through collective remembering and storytelling
About this event
The WOC Azadi* Collective is a grassroots project led by and for Women of Colour (WOC) that offers a transformative space for us to come together in solidarity, to heal, and work towards liberating ourselves from patriarchy, white supremacy and colonialism.
The WOC Azadi Collective has created a series of free interactive online workshops for women of colour. The aim of the workshops are to explore and hold space to discuss what alternative systems of learning and care mean for us. Workshop leaders will help facilitate discussions on a number of different themes which participants will be encouraged to engage with.
We are excited to share details of our workshop on Connecting with ourselves and each other through collective remembering and storytelling
Facilitators will support participants to explore some of the following topics.
- Sharing and celebrating the stories of women who came before us
- Recognising the women in our lives and the gifts they bring
- Holding space for our stories / cultivating our own narratives
- Acknowledging and honouring our ancestors in practice / Connecting to ancestral wisdom and practices in our lineage
Please note that the workshop has been created to be a safe space for WOC and is only open to women from black, brown and other racialised communities. If this is not who you are, then we request that you reconsider booking a ticket and not to take up space for WOC.
Workshops are suitable for people aged 18+ and will be held online via zoom. Zoom links will be sent the day before the event. Priority will be given for WOC based in Sheffield and Rotherham, but spaces will be available to women outside of these areas as well.
If you have any questions about the workshop or have any access needs, including financial support to cover costs for child care or data, please contact wocazadicollective@gmail.com
* WOC -Is used as a collective term to include women from racialised communities who are marginalised due their race or ethnicity. The WOC Azadi Collective is an inclusive space for cis and trans women and non binary people.
Azadi - Liberation/Freedom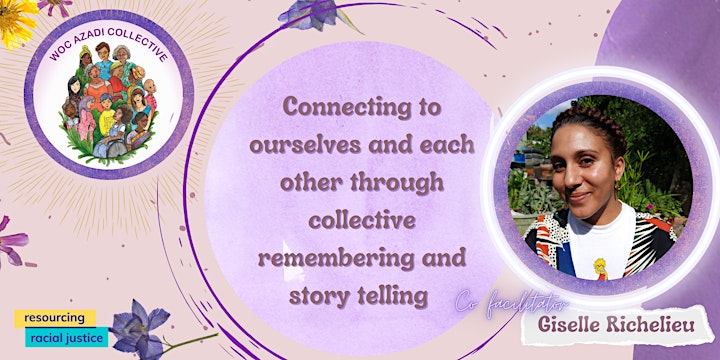 The WOC Azadi Collective is honoured to have Giselle Richelieu co-facilitate this workshop.
Giselle has worked in the voluntary sector as a specialist support worker and advocate for children and young people for the last 12 years. After taking a step back from frontline trauma work to rest and realign she now works as a community builder in a small social action project in Hackney. In her free time she is a trainee sound healer, singer-songwriter, informal student of herbalism and has a keen interest in learning about ancestral practices and traditional and non western healing modalities, that do not require disclosure. Giselle is also the founder of Black Girls Bloom, an intentional space cultivated by and for Black women and girls to radically reimagine their futures and what's possible when we co create community based on critical, deep and authentic connections.