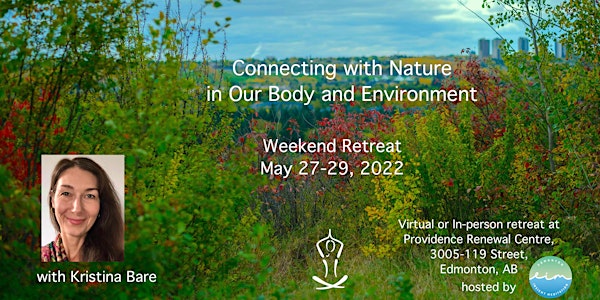 Connecting with Nature in Our Body and Environment: Retreat w Kristina Bare
Location
Providence Renewal Centre
3005 119 Street Northwest
Edmonton, AB T6J 5R5
Canada
Refund policy
Contact the organizer to request a refund.
Eventbrite's fee is nonrefundable.
Kristina Bare, an insight meditation teacher, will guide this spring weekend retreat to explore and connect to nature.
About this event
We welcome you to join us either in person or online for a weekend retreat.
As we tune into our felt sense of the body, we see that it is part of nature. Like nature around us, the body has rhythms, patterns and cycles that are beyond our conscious control. Instead of trying to control the body to make it look, feel and act in certain ways, we learn to honour and listen to our embodied experience. As we deepen our care and respect for our embodied experience, we deepen our reverence for the environment around us. During this retreat, we will strengthen our caring connection with our own bodies and with the natural world.
The program includes dharma talks and practice guidance, periods of still and movement meditation, as well as small and large group discussions. Suitable for all levels of meditators, from beginners to experienced.
ADDITIONAL INFORMATION
Dates and times
Friday, May 27th 7:00 - 9:00 pm  *(Please arrive early to register and settle into a spot)
Saturday, May 28th 9:00 am to 5:00 pm
Sunday, May 29th 9:00 am to 4:00 pm 
What to expect 
During this largely silent weekend retreat, periods of sitting and walking meditation will alternate with meditation instruction and dharma talks. Retreatants will have opportunities to ask questions and participate in small group discussions. 
About the teacher
Kristina Baré was introduced to Buddhist meditation as a young girl by her father who teaches in the Zen tradition. She has practised Insight Meditation since 2009. After completing six months of silent retreat practice, Kristina was invited into a four-year teaching program by her primary teacher Marcia Rose. She is currently training as an Insight teacher at the Spirit Rock Meditation Centre in Woodacre, California, and at Insight Meditation Centre in Barre, Massachusetts. Over the past years, Kristina has trained primarily in the Burmese Theravada tradition known as the Venerable Pa Auk tradition with a focus on Anapanasati (mindfulness of breathing), the four Brahma-viharas and mindfulness of the body. She has a special interest in supporting students wishing to cultivate focused attention, tranquillity and well being in order to deepen insight.
Kristina grew up in Copenhagen, Denmark where she trained as a clinical psychologist and as a somatic experiencing practitioner. She is also a registered marriage and family therapist. She now lives in Victoria, BC, where she offers dharma support, therapy and supervision via Zoom to students and clients in Europe and North America.
Registration 
Registration for local sangha is open on March 24 and then registration for the general public opens on March 31, 2022. The registration cost includes meals (Saturday and Sunday lunch). An early bird registration fee of $160 is available until April 14 and then regular registration fee of $175 will apply. Registration for in-person and virtual spots will close on May 19, 2022.
Dana for teachers
Both in person or online registration fees cover the cost of the retreat, but not dana for the teacher. According to Buddhist tradition, dhamma teachings are offered freely. Students are invited to practise dana, or generosity, by giving what they feel is appropriate and affordable to their teacher. Your financial support enables teachers such as Kristina Bare to continue their sharing the teachings and providing guidance to many.
Accommodation
There is limited accommodation available at the Providence Renewal Centre for retreatants who would like to stay at the centre for the weekend. The cost for a single room with shared bathroom facilities for two nights and Saturday and Sunday breakfast is $120. The cost for a room with a private bathroom for two nights and Saturday and Sunday breakfast is $170. Accommodation is booked and paid for separately from the retreat registration. If you would like to book accommodation, please contact the retreat organizers as soon as possible at edmontoninsight@gmail.com. Accommodation may not be booked directly through the Providence Centre.  
Bursaries
A limited number of bursaries are available for practitioners on limited income. If finances are a barrier to your participation in this retreat, you may apply for a bursary to help cover registration costs. To find out more, please contact the retreat manager at edmontoninsight@gmail.com.
Cancellation policy
Retreats involve a number of fixed, upfront costs that are based on the number of retreatants. Costs include facility fees, meals, accommodation, supplies and teacher travel costs. These costs are not reduced when a registrant cancels. Our cancellation policy intends to be as fair as possible. 
Cancellation on or before May 7: 100% refund minus administrative cost (eventbrite service & processing fees per ticket). Cancellation on or before May 20: 50% refund. Cancellation after May 20: no refund
Cancellations due to personal, family or medical emergencies will be handled on a case-by-case basis. Please contact the retreat manager at edmontoninsight@gmail.com.
Cancellations for accommodation are handled separately. You will be informed of the cancellation policy for this when you book your accommodation.
Transportation
If you are driving to the retreat, please consider car pooling for the sake of the planet and to avoid straining parking facilities at the centre, which are free but limited. 
Food options
We will be providing a vegan (gluten-free) lunch catered by Padmanadi on Saturday and Sunday. If you have severe food allergies or sensitivities, please bring your own food. You can store it in the fridge in one of the main floor kitchenettes and have your meal in designated eating areas.
More details
Registration packages with more details, including what to bring, will be sent out closer to the retreat.  If you would like more information about anything, you are also welcome to contact the retreat manager at edmontoninsight@gmail.com.