Connection 2020 - Experience London's Group Work Scene!
About this event
AUTHENTIC RELATING + CIRCLING + ENCOUNTER GROUPS
-------for Self-Development--------
WHAT'S LONDON'S FAST GROWING GROUP WORK SCENE ABOUT?
Experience the 3 group types that everyone is talking about !
Explore how you can make the most of group work for your self-development by finding out more on a very experiential day
___________________________________________
An enriching day of group work to:
- discuss why we love self-developmental group work and what can get in the way
- experience Circling
- experience Encounter Groups
- experience Authentic Relating
- build connection
- discuss your day experiences to achieve further insight (premium)
- Enjoy a nourishing sound bath, lunch and river walk (premium)
_____________________________________________
TICKETS/SCHEDULE
When you click on each pass option before purchasing you'll be prompted to view the lenght and activities that the selected pass includes
________________________________________________________________
Connection 2020 is a day event where you can Grow, Experiment and Practice being authentic.
Organiser of Connection 2020 - Experience London's Group Work Scene!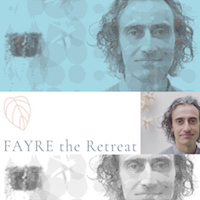 Francesco AKA FAYRE the Retreat is a widely experienced Person-Centred counsellor, establishing over ten years of expertise in Group Therapy, individual empowerment, community & personal development, issues of social inclusion & diversity, addiction, loss, helping communities to thrive, spirituality, impact of media & technology on ability to develop & flourish, family & couple therapy, systemic family constellations, and the work of Rudolf Steiner.
With formal training in Carl Rogers's Person-Centred Therapy, he affirms that respect, trust, openness & honesty are the essential elements that shape his humanistic approach. A philosopher and a traveller his work and inspiration globally span over Italian, British, Indian and Japanese cultures.
In India he studied and explored the deep rooted societal, spiritual and experiential wisdom illustrated by authors such as Devdutt Pattanaik and Indian Classical texts like the Yoga Sutra.
Drawing parallels between Carl Roger's views and that of the Ancient Indian thought and way to knowledge & fulfillment, has had an organic influence on his approach to his work.