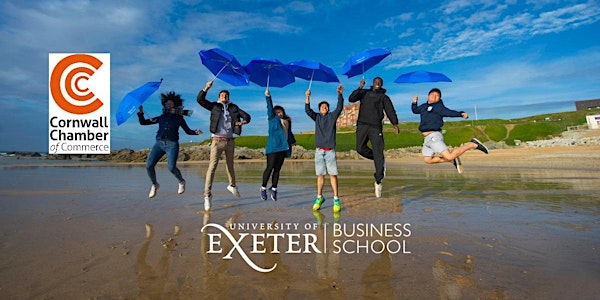 Conscious Capitalism - A Business That Makes Just Money, is a Poor Business
Location
Exchange Green
Exchange Building
University of Exeter Penryn Campus
Penryn
TR10 9FE
United Kingdom
Description
Join the University of Exeter Business School in Penryn for the morning on Monday 14th March 2016 when they will be hosting a breakfast networking event with a keynote from serial entrepreneur and pioneer of conscious capitalism, Louis Hurst. The event will allow time for you to network with other businesses as well as business school staff. There will also be an opportunity to learn more about the new BSc Business programme that is delivered at Penryn which blends a career-focused business and management programme with an ethos of ethics and sustainability.
Keynote Louis Hurst
'A Business That Makes Just Money, Is A Poor Business'
Louis Hurst is a 37 year old, dyslexic, coffee loving, former Radio DJ, Dad of 3 and a self made entrepreneur who has built several businesses in a wide range of sectors. These range from Marketing, Events, Telecoms, Coffee and even the Music Industry. Louis is a pioneer of conscious capitalism and believes 'a business that makes just money, is a poor business' so he encourages company bosses to look beyond the bottom line in their day to day operational decisions. Louis will demonstrate that taking a holistic and ethical approach to business planning, will have a positive effect on profitability, people retention and business longevity.
Louis is also a big believer in the saying 'Success Comes When Your Out Of Your Comfort Zone' and regularly takes his teams to complete projects in the slums of East Africa and by encouraging an out of comfort zone environment see a boost in his business productivity. In addition to this, Louis is an advocate for giving young people experience and opportunity therefore currently acts as an entrepreneurial advisor to many universities and colleges across the UK. He has also recently setup a seed capital fund to help young people realise their entrepreneurial aspirations.
At the moment Louis currently runs the Amelix Group of companies in Whitstable Kent, a small group of companies that operate autonomously but share the same core values. They operate in numerous makes from Events, Marketing, Logistics, Youth Projects, Educational Resources and Telecoms (www.amelix.co.uk). He also co-founded the HatHats Coffee Company which has 'giving back' firmly in its ethos (www.hathats.coffee). Additionally, Louis runs Hurst Capital Investments, is the Entrepreneur in Residence at East Kent College and gives regular lectures on entrepreneurship at Universities across the country, as well as, advising 3 Private Equity Firms and is involved in 2 tech startups.
Follow Louis on Twitter: @louishurst