Description
The University of Exeter Medical School
Consciousness, Interconnectedness and Hope
The future is 'We'and 'Me'

Date: Tuesday 20 March 2018
Time: 12:00 - 14:00
Venue: University of Exeter, St Luke's, Medical School, South Cloisters Room 3.06
Event Information
This symposium will explore the new and exciting concepts of 'non-locality' and the 'non-local mind'.

Keynote speaker Dr Jude Currivan is a cosmologist, futurist, business woman, and prolific International author and speaker. Jude has a Master Degree in physics from Oxford University specialising in quantum theory and cosmology and a PhD from the University of Reading researching ancient cosmologies, and has recently become a member of the prestigious Evolutionary Leaders Circle.
Consciousness has been called the 'hard problem' by scientists, because no-one has been able to conceive of how it arises. The idea that the brain produces consciousness has held scientific sway, but now the older idea that consciousness is primary and that we and our Universe are fundamentally inter-connected, is gaining ground.
The knowledge that we are all interconnected through universal consciousness, and not trapped in our physical bodies and minds, changes everything, and offers great hope for our future as a species.
Dr Currivan will explain how the latest scientific evidence across many fields of study is revealing that the digital information that upholds our technologies is exactly the same as universal information that is all we call physical reality. Exploring how our Universe is emergent from deeper, non-physical realms of consciousness she also explains how quantum and relativity theories can be reconciled by considering energy-matter and space-time as complementary expressions of such in-forming intelligence.
However do not be put off by these radically new concepts Dr Currivan and other panellists will make the ideas accessible and relevant to all of us, and explore how all of us can and should respond to this new perception of unified reality.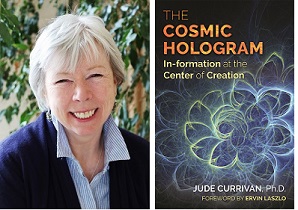 Programme
12.00 - Arrival, refreshments and light finger buffet lunch
12.30 - 14:00 - Keynote presentation Dr Jude Currivan, followed by a discussion led by Prof Adam Zeman and Prof Max Velmans and questions and answer session.
14.30 - Workshop for University of Exeter Students only (Registration required due to limited spaces available)
15.30 - Close
Venue
Venue: University of Exeter, St Luke's, Medical School, South Cloisters Room 3.06
Address: St Luke's Campus, Heavitree Road, Exeter EX1 2LU
Please visit this page for directions.
Registration and contact
Please register using the 'register' link on this page.
If you wish to register without using Eventbrite, or if you do have any questions regarding the event, please contact UEMS_CPD@exeter.ac.uk.