Consciousness Lab: Experience Non Duality with Pandora Star

Saturday, 25 March 2017 from 19:00 to 23:00 (GMT)
Event Details
NON-DUAL SPIRITUALITY meets SCIENCE meets TECHNOLOGY

"We Are Love", "We are all One", "There is no Separation"… you might have heard or even used yourself these expressions and alike. Many spiritual traditions point in that direction and many of us feel or intuit that there is some truth in it, but... have you ever had a direct experience of it? Have you ever entered that deep state of expansion, bliss, undeniable knowing, and merging with Everything-That-Is, while being fully aware and with total recall of your experience?
With the aid the PandoraStar Light Machine, we'll assist the brain to gradually and safely transition to the most optimal brainwaves frequencies, and we use a powerful mix for meditation and shamanic techniques to open the doors of our own Consciousness Lab.
WHAT IS THE PANDORASTAR LIGHT MACHINE?

It's hard to describe the magic of the Pandora Star, but at a very basic level is a device with 12 powerful LEDs that emit flickering white light. The frequency of the flickering is measured in Hertz (Hz) and changes according to the program.
While you keep your eyes closed, the light will pass through your eyelids stimulating your optical nerve entraining your brain at the same frequency.
Colours, geometrical shapes, patterns and light tunnels are very common to experience, especially in the most visual programs.



An example of the visual that can be experienced with closed eyes:

If you're curious about the PandoraStar and want to try it out before attending the Consciousness Lab event, Friday evening I will host few rounds of explorations with entertaining and relaxing programs.
WHAT TO BRING?

Blindfold
Blanket
Bottle of water
Meditation cushion
Yoga Mat
Pen and paper
CAN I ATTEND?

You cannot attend this event if any of the followings apply to you:
You are Pregnant
You have epilepsy or have had seizures in the past
You have had Eye Laser surgery in the last month
You have a diagnosed psychiatric/psychological condition
You are under psychiatric/psychological treatment
TESTIMONIALS

"The Pandora light is a gateway to magic. The experience itself is a lot of fun, a very safe space to go to the unknown. And it definitely opens something, leaves an imprint that you can keep using in the future. Can't wait to do it again!"
"Using the pandora star/guided meditation helped me go into a deep state of relaxation, where my boundaries became blurry. I felt how this technology was helping me dive very fast into those states."
"I fell into a deep space of total blissful surrender into emptiness."
"A great introduction to hacking the brain, Amir gave some clear explanations on how to explore new realms."
"Great experience once again, I went very deep, and actually started getting more awareness on moving consciousness from the content to the container. I would definitely recommend this experience to anyone interested in diving deep."
"An incredible experience that I highly recommend"
"I totally recommend doing a session with Amir with the Pandora Star Light Machine. His guiding meditations were non-interference like and on the spot, sometimes it felt he was talking directly and only to me. I was definitely quite impressed.
Got some deep insights and felt incredibly blissful, never went so deep (99%) into the container as with this machine."
"I transcended my fear of dying.."
Do you have questions about Consciousness Lab: Experience Non Duality with Pandora Star?
Contact Way Beyond
When & Where

Way Beyond
Santakatu 2E
FI-00180 Helsinki
Finland


Saturday, 25 March 2017 from 19:00 to 23:00 (GMT)
Add to my calendar
Organiser
Way Beyond

Amir (@Way Beyond) is a Life Coach, Healer, Bodyworker, Consciousness Explorer, and event facilitator. He has trained with Plant Medicines, Shamanic Rituals, Lucid Dreaming, Out of Body Experiences, and a variety of Meditation practices. He's a  PandoraStar, distributor and certified practitioner, Reiki Master, and VortexHealing® practitioner.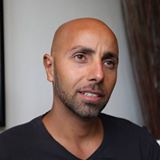 Consciousness Lab: Experience Non Duality with Pandora Star