Conservation, Culture, Commerce & Crime: Ivory & Rhino Horn Product Markets
Description
This Hot Topic is aimed at anyone with an interest in the law and economics of the illegal wildlife trade and specifically the trade in elephant ivory. The British Government is under pressure to ban the sales of all ivory, including ivory antiques but what effect will this really have on the current declining elephant populations?
Elephant population numbers are seriously declining due to poaching activity to provide illegal ivory for crafted items, sculpture and jewellery. Despite seemingly robust legislation controlling legal ivory sales (including export permit requirements for UK sales abroad) and the that fact that synthetic ivory can now be created to the same diagnostic standards as genuine ivory, selling at a fraction of the cost, the demand for the 'real thing' continues to rise in craft and antique markets with very few prosecutions in the UK. Moreover, there is evidence to suggest that "ghost ivory" (post-1947 worked ivory being sold as pre-1947 worked ivory) is being sold by traders to the unsuspecting and uneducated buyer. Two key illegal sub-markets are identified and a socio-legal and economic analysis of the regulatory options available is presented.
Speakers: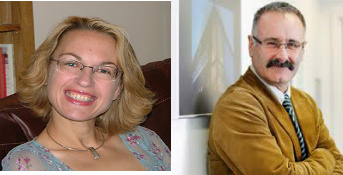 Caroline Cox, School of Law, Portsmouth Business School
Caroline specialises in Equity & Trusts and Public Law which she teaches on the undergraduate programme. She is also an Employability co-ordinator for the Law School and teaches on the Research and Professional Development undergraduate course, preparing students for life after graduation. Caroline teaches conveyancing on the CILEX accredited course to both undergraduate and post graduates. "I try to show my students that as lawyers we need to be able to communicate our knowledge to our clients, colleagues and fellow professionals. At Portsmouth we are strong advocates of links between the university and its students and the profession. Employability is key. Preparation for professional life is vital."
Professor Alan Collins, Professor of Economics, Portsmouth Business School
Alan is Professor of Economics and Head of the Economics and Finance Subject Group. Previously, he was a Research Fellow, Strathclyde University and an Engineer/Planner with Babtie Consulting Engineers based in West Yorkshire. Alan teaches a wide range of subjects at both undergraduate and postgraduate level. His teaching interests include Environmental Economics and Policy, Managerial Economics, Social Economics, Transport Economics, and Cultural Economics.He is an active researcher in a number of fields, the most significant of which are environmental and natural resource economics, urban and transport economics, social and cultural economics.
Programme
5.30pm - Registration and refreshments
6.00pm - Guest speakers
7.00pm - Question & answer session
7.30pm - Networking with cheese and wine
Car parking is available on site after 5pm for a fixed fee of £2. For more details, maps and directions to the venue, please see our website.
PLEASE NOTE: If you wish to book tickets for more than one person, you must provide the names and contact email addresses for ALL attendees. Multiple places booked for the same name may be cancelled.
Information on this page may be subject to change at any time.