Location
Durham Business Group, Portland House
Belmont
Durham
DH1 1TW
United Kingdom
Understand why you should decide what you want from a CRM system rather than learn to use a CRM the way it is programmed. Knowledge is power
About this event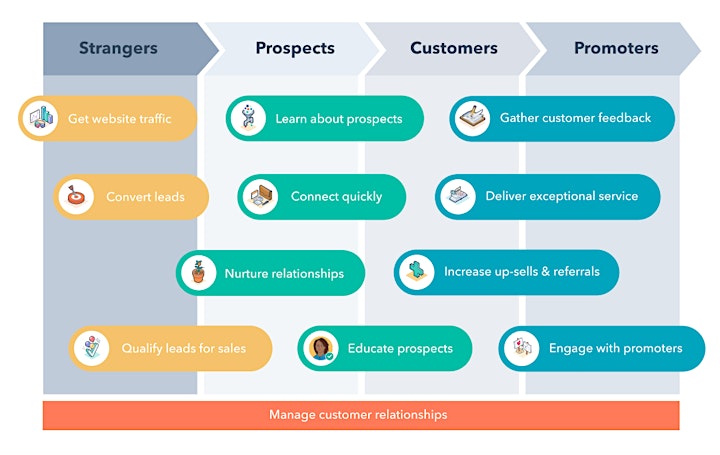 CONSIDERING THE BENFITS OF A CRM
The workshop sessions will allow business or team leaders to develop their understanding before considering CRM as a tool they can use.
The workshop sessions are designed for a basic understanding of how CRM systems can benefit businesses.
To make sure the reason for embedding them in the core business processes are thought through.
Talk through why members of the business team(s) should be involved in system/process changes.
And the content has been designed to inform rather than train.
The delegates are limited to 10-businesses; represented by the business owners or team leaders. Maximum of 2-delegates from a single business.
WORKSHOP PART ONE
This session will introduce the CRM functionality in context with its purpose inside your business. Its impact on existing marketing and sales processes and your team(s) activities.
Overview of Business Process & Roles
How easy are you to do business with?
How easy are you to work for?
The Orbital Buying Cycle
Overview of the HubSpot Flywheel
Structuring Contact & Company Record Data
Contact List Management & Uses
WORKSHOP PART TWO
The session will focus on managing the quotes functionality and progressing enquiries through a pipeline until the 'deal' is concluded. It will take a brief look at the many ways to extract management information that is kept in real-time.
Activity Management – Email & Task Reminders/Alerts
Email Marketing Basics
Sales Pipeline Management
Creating Quotes & Reviewing Deal Management
Considering More Functionality Through Integration
What Could Be Your Next Steps?
ATTENDING THESE FREE WORKSHOPS WILL HELP YOU AND YOUR TEAMS MAKE THE RIGHT CHOICES BEFORE IMPLEMENTING ANY PROCESS CHANGES
Workshop Delegate Testimonials
"Enjoyable, very informative & an easy to follow course to help you grasp the workings of a CRM system, it's purpose & how it can help you & your business provide a better service & increase sales. Kevin is very knowledgeable & a great communicator. I thoroughly enjoyed the course, learned a lot & would highly recommend attending!"
Wendy Robison, Director, Krazy Kingdom
"Joining the "Considering a CRM" workshop made me realise that my company marketing and sales activities are currently very haphazard. It was a perfect introduction to CRM and clearly explained how it can help organise and control day today marketing and sales tasks whilst saving time on tedious admin."
Owen Weightman, Owner, 3D Virtual Spaces
"The Hubspot CRM Workshops were a fantastic way, not only to understand how a CRM works and its capability, but to take a backward step from the business and understand what it is that your business needs from the CRM as well as the processes and people within it. It worked as a bit of a business review to cut out unnecessary processes and focus on what data is important and how it can be used productively."
Aaron Arkley, Director, Ark Partnership