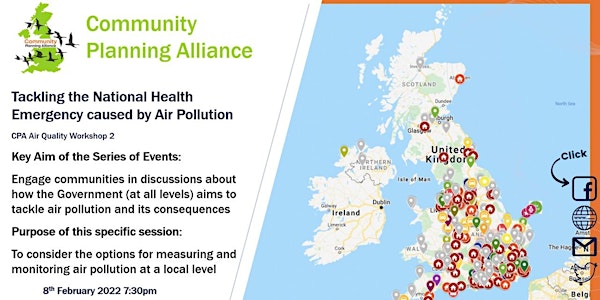 Considering Opportunities for Local Measuring & Monitoring of Air Pollution
Are you currently measuring and monitoring air pollution in your local area? Find out what others are doing and why!
About this event
Back in December 2021, we held the first session in our series of seminars aimed at engaging communities more actively in the air pollution/air quality debate. We discussed the deliberations to date on targets for air pollution, the complexities, the range of pollutants, the impact on our health and wellbeing, and much more. There were lots of questions and lots of ideas brought to the table to help us identify next steps. If you were not able to attend our previous event, you'll find the recording at this link.
This second event in our series focuses on measuring and monitoring air pollution at a local level. We have three excellent speakers who will help set the context for our discussions:
Professor Stephen Peckham (Director, Centre for HSS, University of Kent), who will help us understand why we should measure and monitor air quality
Graham Turnbull (Clean Air for Sheffield), who will show us how easy sensors are to set up and operate
Mike Josephs (Hope Valley, Peak District), who will showcase the bigger picture for our neighbourhoods, looking at local metrics that go beyond air pollution and how they add value.
We'll then open the floor to our participants for some detailed discussions about local measuring and monitoring. We'd be interested in hearing about your experiences and, of course, we'll be happy to try and respond to your queries, with our Q&A session being supported by Air Quality Consultant, Peter Fleming.
Future sessions in the series are already being planned. In case you have not seen it, we have launched our survey. Please provide your inputs and feel free to share it with your contacts too.
Ideas have already been suggested for other events, so there will be no shortage of proposals to engage communities in the race to tackle this "national health emergency".