About this Event
Constellations III : Art & City
'EXHAUSTED CITIES' - 17th September
"The poetics of the apocalyptic: how to survive the eminent end of human economic resources."
16:30 to 17:30
Otavio Avancini –"Eco- disasters and Activism. The Flag as a canvas of collective destruction"
Manuela Benini – "City as a stage, perceptions on activism and digital self-defence. How to keep activists safe in the age of surveillance capitalism"
15 minutes break
17:45 to 18:45
Finlay Forbes & Alice Millen – "Moving Waste. Where there is space it must be filled"
Deasy Bamford – "The Art of Leaving: Age, Death and Renewal thorough struggling times"
the cost of the session is GBP £5 or equivalent in your currency
Free Bursary passes are available at www.getactiveonline.org for low / un-waged and students
Art & City is inviting a highly experienced constellation of scholars and artists to share their practices in a provocative relationship within the public sphere, bringing a social intervention perspective to the current global pandemic scenario.
Performances have always had the power to bring to the surface hidden issues, allowing them to manifest for reflection in the social and public sphere. Social change is urgently needed. We live in an era in which the exhaustion of economic and ecologic resources has severely impacted our human subjectivity and agency. Never has it been so important, especially for those of us who are acting in an artistic and educational reality, to reinvent ourselves in the face of this new scenario and to question how can we still be empowered to act and to promote social change? To answer this question, we also need to review what exactly constitutes the social and public sphere today after the great cataclysm caused by the global pandemic. This last third cycle of Constellations encounters is in three parts and aims to elucidate a critical view on the Art & City relationship and possibly create new cartographies and solutions in face of the total crises and failures of our political systems.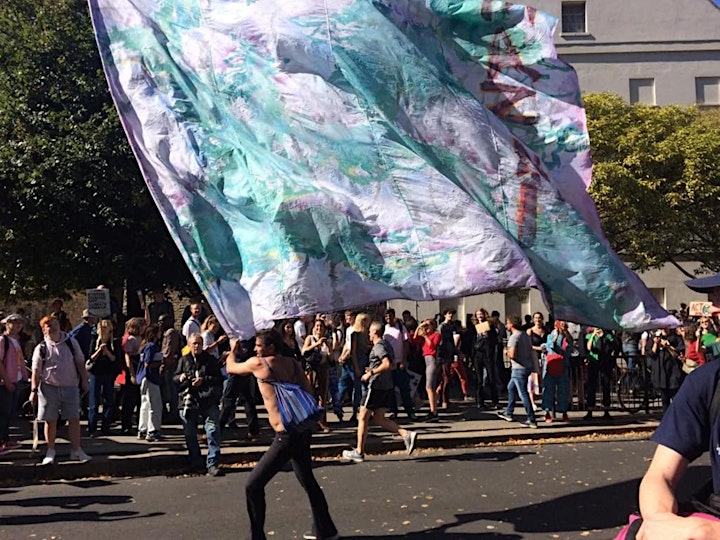 OTAVIO AVANCINI, is a painter, sculptor, teacher, social and environmental activist. Taught classes at the State University of Rio de Janeiro (UERJ), at the Centro de Artes Calalte Gulbenkian, SENAC and at the Centro de Artes Maria Teresa Vieira. He conducted artistic research residencies in London and in the city of Oaxaca, Mexico and received the Universidarte (travel to New York and Paris) and Urban Interferences (Santa Tereza, Rio de Janeiro) awards. He held individual, collective and curatorial exhibitions. At the Museum of Image of the Unconscious and at Pedro Ernesto Hospital, he developed art therapy workshops. He worked as a guest artist, artistic and carnival director at the Escola de Samba Mirim Pimpolhos da Grande Rio.
Work Description
"Massive Flags" is a political public space performance in straight dialogue with the environmental crisis that we are experiencing on the planet. The large scale flag surface is a mobile canvas expressing the lack of preservation of natural resources, as well as the lack of understanding of climate change. The performance action is inserted in the protests in the streets in a poetic way.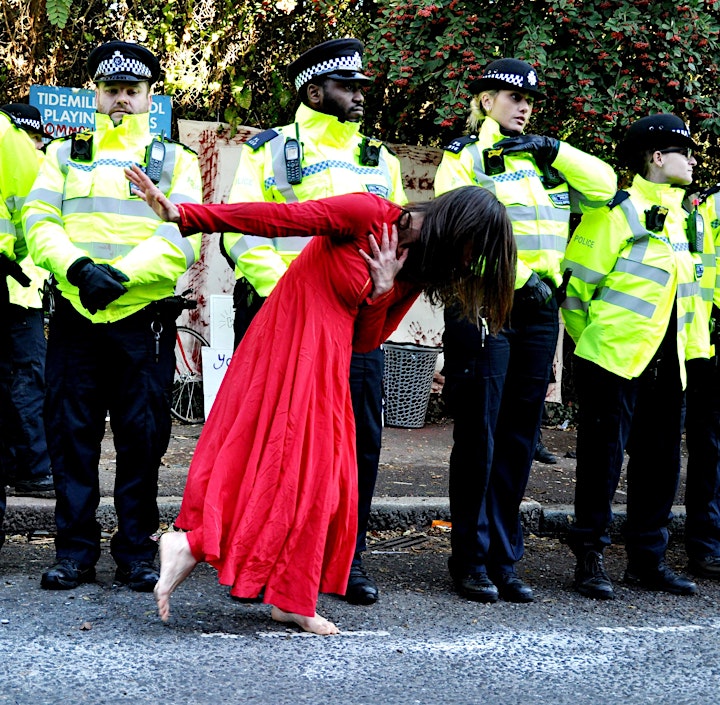 MANUELA BENINI is an outdoor arts producer, mass choreographer and dancer with a passion for movement as a tool for transformation. She regularly works with national and international companies such as EEA, Walk the Plank, Mandinga arts and has a life long dance and photography project entitled "Red dress project" where the dances in challenging landscapes across the world to raise awareness of environmental and human rights violations.
FINLAY FORBES & ALICE MILLEN
'Moving waste' a collaborative project started in 2019, between Artists Alice White and Finlay Forbes Gower to creatively investigate our relationship to 'waste'. An ongoing project employing the body, assemblage sculpture, photography and film. WHERE THERE IS SPACE IT MUST BE FILLEDIn a dynamic 20-30 minute workshop we'll engage the collective body in new imaginings/ embodiments of waste[empty] and waste[full].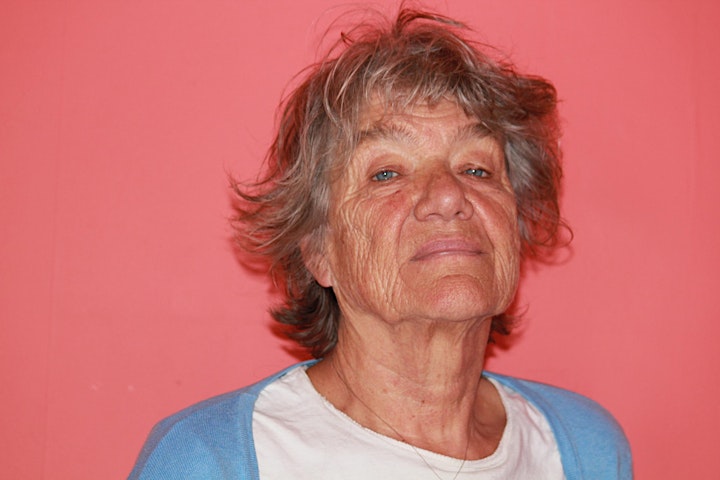 DEASY BAMFORD
I have been immersed in community arts and development ever since I arrived as a single parent in Bristol. 33 years ago , coming from a rural background in North Cornwall
Chance meetings, luck and determination led me into starting Tribe Of Doris and then Imayla . organisations committed to cultural inclusion and representation, participation and expression.
Work Description
Heading into my 7th decade I am in the process of refining my creative role in this life. At present I am an arts mentor for Theatre Bristol and developing my own practice with a project " The Art of Leaving " working with autumn leaves to encourage individual spontaneous creativity and engage with the themes of death and renewal supported through a programme of creative workshops, micro performances and cultural stories.