Construct South London Busting the Myths of construction for young people
Construction is not just dirty boots on the ground- with over different 200 jobs - construction is a first choice for everyone!
About this event
Constructing South London - The MCA South London Partners works across 6 London Boroughs: Wandsworth, Richmond, Kingston, Sutton, Merton and Croydon and works with employers to identify employment, apprenticeship and work experience opportunities for all our residents.
This is an event is aimed at people who are leaving school or college (and their parents or carers) who would like to find out about the career opportunities available in the construction sector.
Construction is not all hard hats and muddy boots!
Yes, there are your traditional trades such as carpenters, plumbers, plasterers, dry liners, scaffolders, painters, bricklayers, groundworkers etc. But the construction sector has many other disciplines too such as; finance, legal, administration, retail, leisure, site supervisors, site managers, cleaners, caterers, surveyors, architects, maintenance, highways, railways plus many more. There are also new jobs emerging, particularly in the green energy and low carbon sectors.
There are also loads of opportunities to progress up the career ladder, once you get into the sector, either managing people, projects, companies or even starting up your own business.
Jobs in the construction sector have been growing in south London for the past 5 years and we believe that construction is first choice career option and should not a last resort. Making the right choice is more important now than ever before, as the labour market becomes increasingly competitive.
There are also many well established Apprenticeships available in construction and are a great way to earn while you learn and start to build your career.
To help bust some of the myths we have 2 guest speakers.
James Burke learning and Development Manager at Ballymore - Embassy Gardens Nine Elms and London City Island. James will give an insight into life working in construction, both commercial & domestic.
Joe Brennan - JBT training. Joe is the owner and director of JBT Training who works with large companies providing apprenticeships and will talk about starting an apprenticeship.
Peter Walsh MCA Hub Manager for South London who will talk about what you need to do to start a career in construction with offer some friendly advice to students (or anyone considering a career in construction).
Once you register you will recieve a link to Microsoft Teams, please make sure you download Microsoft Teams.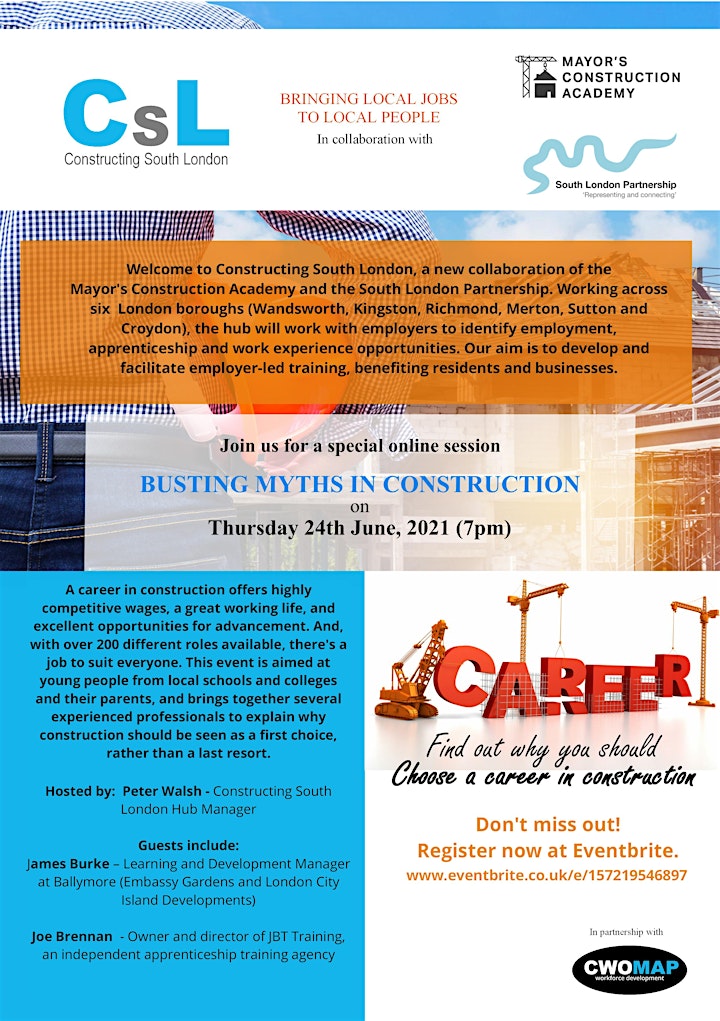 Organiser of Construct South London Busting the Myths of construction for young people