Sales Have Ended
Registrations are closed
Registration has now closed. Please email conference@biee.org if you would still like to attend.
Sales Have Ended
Registrations are closed
Registration has now closed. Please email conference@biee.org if you would still like to attend.
Description
British Institute of Energy Economics
12th Research Conference
September 18-19 2018
BIEE's Oxford Research Conference is a two day research conference that seeks to understand the drivers of change in energy, both positive and negative. Delegates will experience a full programme with high profile guest speakers, paper sessions featuring some of the latest research and thinking and 'Dialogue Sessions', a format that allows for broader audience discussion. .
'The conference is a fantastic opportunity and melting pot for people in the energy industry, from government from academia from other research organisations. One of the real advantages and one of the special features of the BIEE conference is it's a place where all of those energy interested people come together. They learn from each other they spark off each other and they build new networks and new coalitions to help drive the energy sector forward'
Prof Matthew Leach, University of Surrey

Want to know more ? Read Matt Hannon's blog ' Why you should go and why youll want to come back in 2020'
Conference Website
Watch our conference preview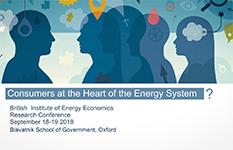 Conference Theme
The 2018 conference will focus on the changing role of the consumer in the energy system, regarded by many in the industry as one of the big transitional issues of the coming decade. With the emergence of advanced technology, 'smart' consumers, (both industrial and domestic) can potentially make more informed choices about when and how much energy they use and ultimately become 'prosumers' - energy producers and storers - themselves. Consumers will be vital in the move towards decarbonising heat and transport. But most consumers are just not that interested in energy, and lack the engagement that drives disruption in other sectors, so how far, how fast and in what ways will this change ?
The conference will explore the challenges and opportunites for an energy system where connected consumers are key drivers, 'acting as the market makers rather than market takers of today' and will look at the ways markets, business models, technology and regulation will need to change in response.
'People have to be at the heart of system and heart of the solution. I would argue strongly that rather than getting the customer to fit the system we should be getting the system to fit the customer'
'The current market arrangements that we have, the consequent business models that we have and the technology platforms that we have today are simply not going to be fit for purpose for the changing needs of consumers, for the market in the future'
Phillip New, CEO, Energy Systems Catapult
First Plenary Session Speaker

See the programme
Speakers
Plenary speakers include
Charles Hendry, Former Energy Minister, BIEE President
Philip New, CEO, Energy Systems Catapult
Barbara Hammond, MBE, CEO, Low Carbon Hub
Peter Bance, CEO, Origami Energy
Volker Beckers, Chairman, Cornwall Insight
Prof Catherine Mitchell, University of Exeter
Vivienne Geard, Deputy Director, Head Energy Efficiency & Heat Analysis, BEIS
Mike Keoghan, Chief Economic Advisor, BEIS
Basil Scarsella,CEO, UK Power Networks
Dr Jeff Hardy, Senior Research Fellow, Grantham Institute, Imperial College
Lawrence Orsini, Founder and CEO, LO3 Energy
Angie Boakes, General Manager, eMobility, Shell
Kingsmill Bond, New Energy Strategist, Carbon Tracker Initiative
Jonathan Thurlwell, Managing Prinicipal IPA Advisory
Dermot Nolan, CEO, OFGEM
Juliet Davenport, CEO, Good Energy
Jenny Saunders, former CEO, NEA
Prof Nick Eyre, ECI, University of Oxford
Attendee Profile
The conference is aimed at energy analysts, researchers, strategy and policy thinkers from all backgrounds, including industry, academia and research organisations, government, the finance community, NGOs and consultancies.The conference is avowedly international in outlook and attendance. It is the mix of people and perspectives that makes this conference distinctive.
To see a list of organisations who participated at our 2016 conference please visit the conference website.
Registration

Conference fees cover all conference proceedings, registration materials, two lunches and coffee /tea breaks. A day rate is available for delegates wishing to attend for one day only. A drinks reception and 3 course conference dinner at St Anne's College on Sept 18th and accommodation can be added to your booking.
The fee for non members includes 4 months complimentary membership of BIEE to provide access to conference presentations and reports after the conference.
BIEE members should log on to register on the BIEE website to access discounted member rates.
BIEE student members and parallel presenters need to contact Sarah Jeffery conference@biee.org for a registration code.
The Eventbrite payment order confirmation and payment receipt is normally acceptable as a proof of purchase. VAT is not applicable.
Registration Information

Refund Policy

Venue

The conference will be held at the new Blavatnik School of Government, which is 7 minutes by taxi and 15 minutes on foot from the central Oxford railway station.
Contact
Email: conference@biee.org
BIEE Mailing List
Sign up here to receive updates on our forthcoming meetings and conferences
Follow the conference on Twitter
#BIEE2018

Sponsored by