Description
Contemporary
Management of Periodontitis
Weds 12th December'18 evening : 18:00 - 21:00 London
The guidelines states, "a one-size-fits-all" approach to periodontal care does not exist in periodontal patients - every patient is unique and requires a bespoke unique approach. We will be analysing and discussing "Guidelines for the Management of Patients with Periodontal Diseases." and looking at the latest trends in treating patients with the condition.

Aims and Objectives
Overview of the latest trends and clinical practice within periodontics in UK
Helpful hints and tips for hygienists from the Expert
The importance of the hygienist in general practice
Your responsibilities to the patient.
Know how to avoid litigation in practice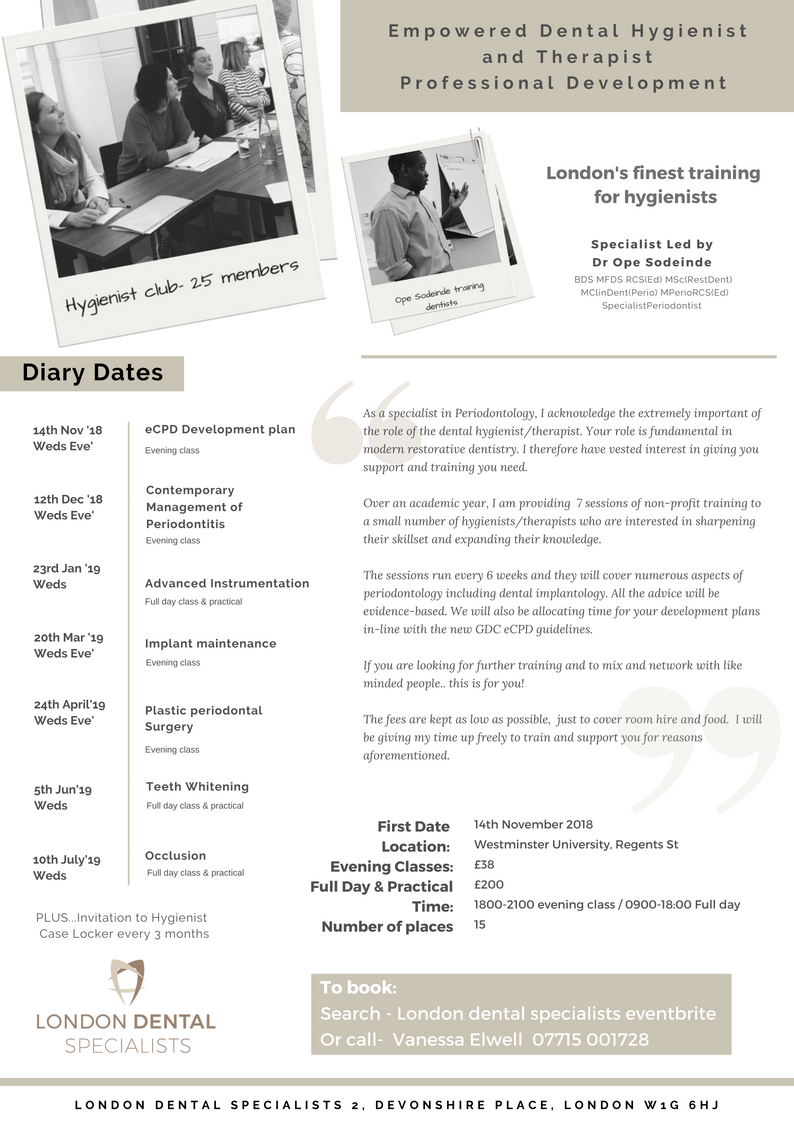 Run every 6 weeks, the sessions will cover numerous aspects of periodontology including dental implantology and reviewing the latest evidence to treat the disease. We will also be allocating time for your development plans in-line with the new GDC CPD guidelines.
The fees are kept as low as possible - just to cover room hire and food. As a specialist in Periodontology, I acknowledge the importance of the role of the dental hygienist. Your role is fundamental in modern dentistry and vital for the patients you treat. I will be giving my time up freely to train and support you.
All evenings are verified UK CPD hours as per the GDC guidelines.
Seminars in 2017/18 - Each session is £38 ( group discounts apply) The fee simply covers the room hire, food and materials.
and therapists who are qualified and hold a UK GDC number are welcome