This 5-week group programme is an implement-as-you-go series of sessions to help you maximise your content.
About this event
We've helped more than 1000 businesses leverage the power of content.
Content increases your visibility and creates a platform for you to sell yourself effectively. But it's easy to fall into the trap of creating content.
You make generic content that gets lost in the feed.
You forget to add value or don't know where your true value lies.
You only post confusing business content leading to little to no interactions.
Each day our content writers and business development executives help clients generate content to attract and engage their target audience.
Helping clients post each day and achieve more than 1 Million views of their content on social channels.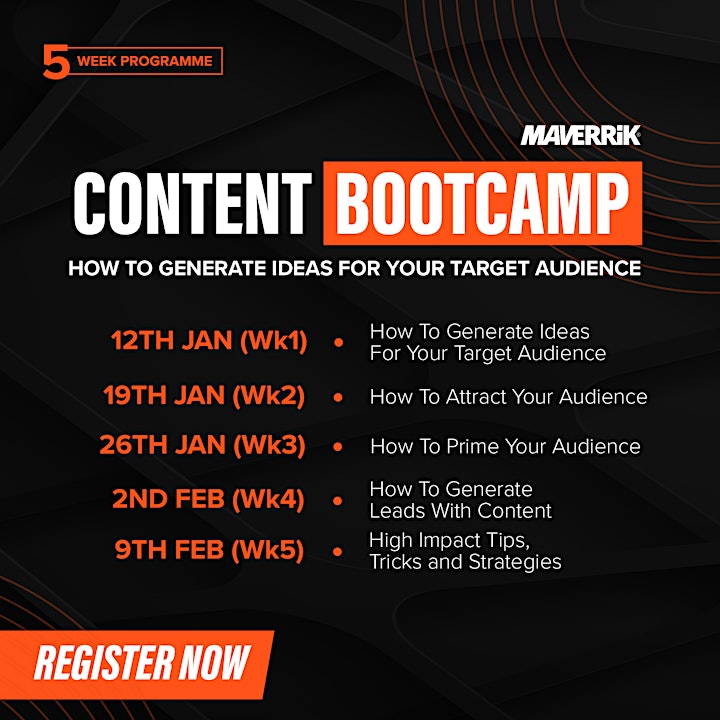 How Can You Achieve More With Content?
This 5-week group programme is an implement-as-you-go series of sessions to help you maximise your content.
You'll learn what to do, what works and how to generate inbound leads with your content.
Each week you'll have a group training session, a small implementation assignment. If you miss any session you can catch up with a digital replay of the training.
Your content has the ability to grow your network, sales and your business. So, you need to get it right if you want to be successful in marketing and selling online.
Register Today and get ready to start your Content Bootcamp.
Organiser of Content Bootcamp
Maverrik is on a mission, to help one million businesses grow. 
By offering training and resources to business professionals, we've (so far) helped tens of thousands of business professionals find new ways to marketing, promote and grow their revenue.
Everything we do, everything we plan, everything we are is about the one million businesses we want to see thrive.
We don't believe in BS. We believe in a strategy that is practical and can be implemented whether you're a back-bedroom solopreneur or the leader of a global corporation.
If a Government decided to form a Department for Business Growth - We'd be it!
(Without the bureaucracy!)
Our team has experience from the sales, marketing, business development and creative sectors. The team is committed to getting vital information, content and strategies out to businesses so they can adopt, adapt and implement them.
If you want to step up, step out and step forward in business, we are on your side!