Description
Want to know how you can REALLY take your content marketing to the next level? We're running a series of exclusive roundtable events, limited to 10 in-house marketers per event to share knowledge, discuss ideas/trends/successes/failures, get advice on key challenges and bounce ideas around with like-minded content marketers and all-round great people...
We are going to theme the events, so that we can maximise the value for all attendees to match sectors + common challenges - please sign-up for the event(s) that suit you best:
Jan: Content marketing
Feb: Travel
Mar: Retail
Apr: Finance (moved to 10th May)
May: App store optimisation
Jun: Digital PR
Jul: Technical SEO
Aug: Future of search (voice, VR/AR, AI)
Sep: Travel
Oct: Retail
Nov: Finance
The agenda will be led by the key topics YOU want to discuss - this will cover the theme of how people measure content marketing and the process from strategy to creation to promotion, in order to get the best results. The goal is to make this as useful and actionable as possible for all attendees, where we facilitate the conversation in a way that helps you go back to the office, excited with lots of learnings and new ideas to test out!
The roundtable will run for 90 mins, with networking drinks if you wish to continue chatting over a beer/wine/soft drink of your choice!
3pm: Arrival and welcome teas/coffee

3.30-5pm: Roundtable discussion (moderator: Kevin Gibbons)

5pm: Networking drinks
It's Chatham House rules, so information can be shared in a private environment where everyone learns from each other.
Brands who have attended our previous events include; MoneySuperMarket, Expedia, CheapFlights, Debenhams, Totaljobs, Reed Elsevier, TripAdvisor, Rightmove, uSwitch, Breast Cancer Care, eBay, Confused.com, JustEat, PayPal and more...
What our attendees say: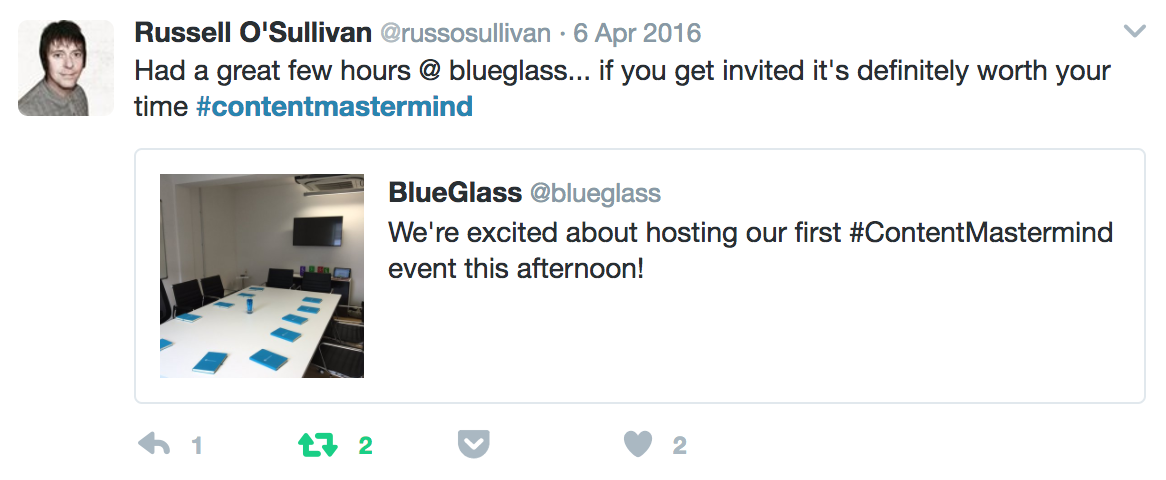 Russell O'Sullivan, Senior Digital Performance Marketing Manager @ Lloyds Banking Group
We look forward to seeing you there!