Description
You've no doubt heard that Content is King: 'Everyone's a publisher now'. The business benefits are clear: content marketing can raise your profile, boost your SEO, support conversions and deepen relationships with prospects and customers. In this high impact session, we'll explore these benefits in more detail and cover how to audit your existing website content, develop audience personas to improve engagement and plan & execute an editorial calendar.
We'll also cover:
Factors transforming buying behaviour today

Auditing your existing website and content

Developing audience personas to improve engagement

The cornerstones of compelling content: copy, audio, video, imagery

Planning and executing an editorial calendar
---
PLEASE READ:
If you are registered as a sole trader, please could you bring a letter from HMRC (with your UTR number on), if you have not provided this already.
---
GetSet for Growth is a specialist service supporting businesses with the ambition and potential to grow and create jobs. It focuses on addressing the two biggest barriers to growth: access to customers and access to finance and offers a mixed programme of workshops, masterclasses, 1:1 advice and mentoring, delivered by teams of finance and marketing experts.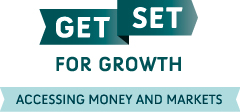 These workshops are available to businesses in Bournenouth, Christchurch and Poole.
---
DORSET BUSINESS GROWTH PROGRAMME
The Dorset Business Growth Partnership is designed to help any Dorset county-based SME become more competitive. Dedicated strands of activity will include pre-start and start-up support, improving companies' digital capabilities, management and leadership skills and scope for internationalisation. Access to finance will be delivered through grants and loans alongside advice, mentoring, training and events.
The three-year SME Competitiveness programme to be run until March 2020, funded by the European Regional Development Fund, is led by WSX Enterprise and the Dorset Growth Hub with a range of support partners.
The main consortium partners are as follows:
WSX (Lead partner)

The Arts Development Company

Dormen

Silicon South

YTKO (incl. Outset & GetSet for Growth)
The Partnership includes the following Local Authorities: North Dorset, Christchurch and East Dorset, Weymouth & Portland, West Dorset, Bournemouth Borough Council (Accountable Body), Borough of Poole, and Dorset County Council.
The beneficiaries of the project are SMEs in the Dorset LEP geographical area from eligible ERDF sectors. The delivery plan has been developed in close consultation with all partners, links to and supports the Dorset LEP ESIF strategy and also addresses the issues identified by the Dorset business community as part of the Dorset LEP ESIF consultation process.