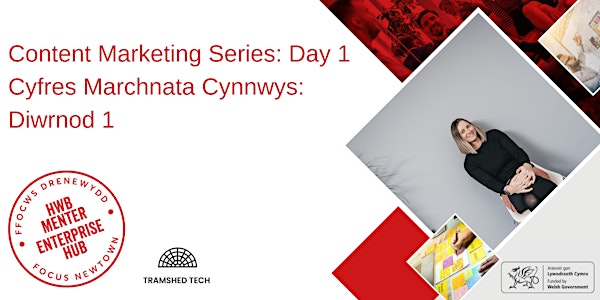 Content Marketing Series: Day One | Cyfres Marchnata Cynnwys: Diwrnod Un
Content Marketing Series: Day One | Cyfres Marchnata Cynnwys: Diwrnod Un
About this event
(Please scroll down for English)
Cyfres marchnata cynnwys: Diwrnod Un
Mae marchnata cynnwys mor bwysig, ac mae pob llwyfan cyfryngau cymdeithasol yn llawn cynnwys o safon. Er mwyn sefyll allan, mae angen i'ch cynnwys chi fod o safon well fyd.
Bydd Diwrnod un y gyfres marchnata cynnwys yn trafod pam bod angen i sefydliadau greu cynnwys a'r offer sydd ar gael i'w helpu i wneud hynny.
Beth fydd cynnwys y cwrs?
9.30 – 10:30am – Pam fod angen i sefydliadau greu cynnwys?
Byddwn yn mynd i'r afael ag:
Adeiladu perthynas gyda'ch cynulleidfa
Gwella eich gallu i gael sylw ar y cyfryngau cymdeithasol
Sut allwch chi feithrin ymddiriedaeth gyda'ch cwsmeriaid
Gwella amlygiad eich busnes drwy SEO
Pam y gall marchnata cynnwys fod yr unig strategaeth farchnata sydd ei hangen arnoch
Byddwn yn cael egwyl fer yn dilyn y sesiwn gyntaf, cyn ail-gydio'n syth am 10:30.
11:00 – 12:00 – Creu eich cynnwys eich hun
Darganfyddwch sut i fynd ati i ysgrifennu eich cynnwys gwefan er mwyn helpu i sefydlu eich brand/sefydliad. Dewch i ddeall beth mae eich cynulleidfa'n disgwyl ei ddarllen, a chasglwch awgrymiadau ynghylch creu naws.
Bydd y digwyddiad hwn yn ymdrin â:
Thechnegau Ysgrifennu
Faint i'w ysgrifennu
Y tudalennau yr ymwelwyd â nhw amlaf
Pwysigrwydd cynnwys ar gyfer optimeiddio peiriannau chwilio (SEO)
Defnyddio cynnwys i greu brand a naws
Ar gyfer pwy mae'r digwyddiad?
BBaChau, perchnogion busnes, rheolwyr marchnata sydd â diddordeb mewn dechrau marchnata cynnwys neu wella eu sgiliau presennol.
Cefndir y siaradwr
Laura yw'r sylfaenydd a'r meddwl y tu ôl i Millrace Marketing, ac mae'n Aelod Bwrdd ar gyfer y Sefydliad Marchnata Siartredig yng Nghymru. Fel rhywun sy'n honni ei bod yn unigolyn gwylaidd, mae'n ysgrifennu amdani hi ei hun yn y trydydd person pan fydd y cyfrwng yn galw amdano.
Sefydlwyd Millrace Marketing yn 2017 fel asiantaeth yn canolbwyntio ar greu cynnwys marchnata ystyrlon ar ffurf cynnwys gwefan, darnau blog, astudiaethau achos, cynllunio cyfryngau cymdeithasol, graffig symudol fideo, a deunyddiau marchnata.
Ar ôl gweithio mewn uwch swyddi marchnata mewn asiantaethau a BBaCh am dros ddegawd, mae Laura wedi ennill cyfoeth o wybodaeth mewn ysgrifennu cynnwys a strategaeth farchnata.
-------------------------------
Content marketing series: Day One
Content marketing is so important, and every social media platform is flooded with great quality content. In order to stand out yours needs to be of a higher quality!
Day one of the content marketing series will discuss why organisations need to create content and the tools that are available to help them do so.
What will the event cover?
9.30 – 10:30am – Why do organisations need to create content?
We will cover:
Building a relationship with your audience
Increasing your traction on social media
How you can build trust with your customers
Improving your business visibility through SEO
Why content marketing can be the only marketing strategy you need
We'll take a short break following the first session, before jumping right back to it at 10:30.
11:00 - 12:00 – Creating your content
Find out how to approach writing your website content to help position your brand/organisation. Understand what your audience expect to read and take away tips on creating a tone.
This event will cover:
Writing techniques
How much to write
The pages most visited
The importance of content for SEO
Creating a brand and tone with content
Who is this workshop for?
SME's, business owners, marketing managers who are interested in getting started with content marketing or improving their current skillset.
About the speaker
Laura is the creator and brains behind Millrace Marketing and is a Board Member for the Chartered Institute of Marketing in Wales. As someone who claims to be a modest individual, she relishes in writing about herself in the third person when the medium calls for it.
Millrace Marketing was created in 2017 as an agency dedicated to creating meaningful marketing content in the form of website content, blog pieces, case studies, social media planning, video motion graphics, and marketing materials.
Having worked in senior marketing roles at agencies and SMEs for over a decade, Laura has gained a wealth of knowledge in content writing and marketing strategy.

Mae Hwb Menter Ffocws y Drenewydd yn lle arloesol ar gyfer paratoi a chyflymu datblygiad busnesau newydd a busnesau sy'n tyfu, wedi'i leoli yn Warws Brenhinol Cymru, y Drenewydd, Powys. Ariennir Hwb Menter Ffocws y Drenewydd gan Lywodraeth Cymru.
Mae'r digwyddiadau a ddarperir neu a gynhelir gan raglen Hybiau Menter Ffocws Llywodraeth Cymru am ddim ac yn agored i bobl o bob oedran, ond rhaid archebu lle ymlaen llaw. Mae'r niferoedd yn brin a disgwyliwn alw mawr am lefydd, felly archebwch yn gynnar i ddiogelu'ch lle.
The Focus Newtown Enterprise Hub is an innovative space to incubate and accelerate new, and growing businesses based at Royal Welsh Warehouse, Newtown, Powys. Focus Newtown Enterprise Hub is funded by the Welsh Government.
Events delivered or hosted by the Focus Enterprise Hubs programme for the Welsh Government are free and open to all ages but must be booked in advance. Please be advised that numbers are limited and we expect high demand for places, so book early to secure your place.