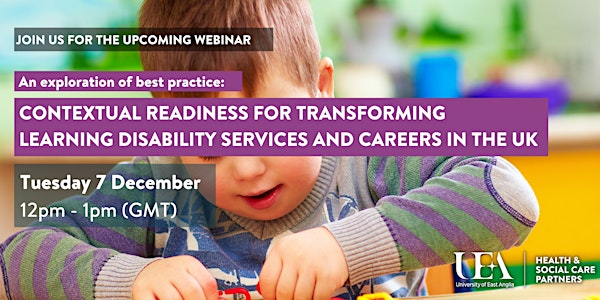 Contextual readiness for transforming Learning Disability Services
We are delighted to invite you to this free webinar hosted by Professor Sally Hardy & Associate Professor Carrie Jackson
About this event
This webinar is the latest in an online series that looks at sharing best practice to reinvigorate health and social care settings, seeking to enable flourishing systems, workforce and communities.
Subscribe to the ImpACT research group's YouTube channel, where you can catch up on the previous online seminars in this series.
December's webinar:
Contextual readiness for transforming Learning Disability Services and Careers in the UK – an exploration of best practice
About :
This webinar will showcase examples of research, workforce development and innovation projects that are helping to transform Learning Disability careers and services in the UK.
Hosted by:
Professor Sally Hardy, Dean School of Health Sciences, University of East Anglia
Carrie Jackson, Associate Professor Practice Transformation, Director of the ImpACT Research Group
Featuring speakers and contributors:
Paul Gallen - Special Guest
As speakers are confirmed, their details will be added here.
About us:
The Inspiring Momentum for practice Action, Creativity and Transformation across communities and health and social care (ImpACT) research group combines the expertise of international practice developers and implementation scientists from the UK, Europe and Australasia.
We work in partnership with experts at University of East Anglia (UEA) and offer an integrated approach to quality improvement through collaborative research, practice development, innovation, and workplace learning initiatives at a regional, national and international level.
ImpACT are part of UEA Health and Social Care Partners (UEAHSCP), a research partnership hosted by UEA whose main function is to increase collaborative research and innovation between health and social care organisations in Norfolk, Suffolk and North East Essex. For more information, please visit www.ueahscp.com.
Subscribe to ImpACT's YouTube channel, where you can watch past online seminars.
Connect with UEAHSCP on LinkedIn
Visit our website ueahscp.com


Organiser of Contextual readiness for transforming Learning Disability Services