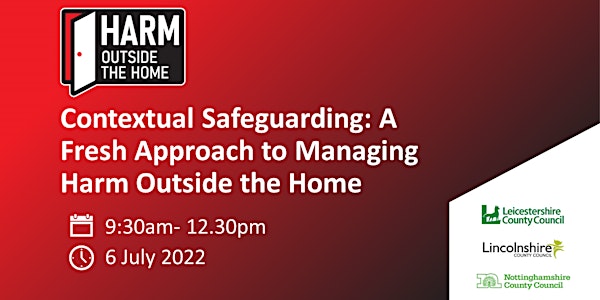 Contextual Safeguarding: A Fresh Approach to Managing Harm Outside the Home
Contextual Safeguarding: A Fresh Approach to Managing Harm Outside the Home
About this event
Background
Contextual Safeguarding is an approach to understanding, and responding to, young people's experiences of significant harm beyond their families. It recognises that the different relationships that young people form in their neighbourhoods, schools and online can feature violence and abuse. Parents and carers have little influence over these contexts, and young people's experiences of extra-familial abuse can undermine parent child relationships.
Therefore, we have learned that children's social care practitioners, child protection systems and wider safeguarding partnerships need to engage with individuals and sectors who do have influence over/within extra-familial contexts, and recognise that assessment of, and intervention with, these spaces are a critical part of safeguarding practices. Contextual Safeguarding, therefore, expands the objectives of child protection systems in recognition that young people are vulnerable to abuse beyond their front doors.
Agenda
Our keynote speaker is Professor Carlene Firmin, an applied social researcher, author and activist concerned with safeguarding young people, social justice and inequality. She is a professor of sociology at Durham University, with particular expertise in social care responses to abuse between young people and harm in extra-familial spaces and places. Professor Firmin founded the concept of "Contextual Safeguarding" to enhance practice and policy in this area.
Agenda Highlights
A Strategic Approach to Contextual Safeguarding
Carlene Firmin Contextual Safeguarding: Lessons for implementation
Building broad partnerships towards a common purpose: Leicestershire and Rutland'sViolence Reduction Network and Trauma-Informed Practice
Developing Safe and Protective Environments in School for Young People at Risk of, or Experiencing Harm Outside the Home
Creating a Contextual Safeguarding Approach for Universal Services
Developing and Disseminating a Harm Outside the Home Toolkit
Developing relational based practice being restorative and trauma informed
Improved communication between Police, Children's Services and Schools to protect children from exploitation