Contra Pop Festival 2016

Saturday, August 20, 2016 at 12:00 PM

-

Sunday, August 21, 2016 at 11:00 PM (BST)
Event Details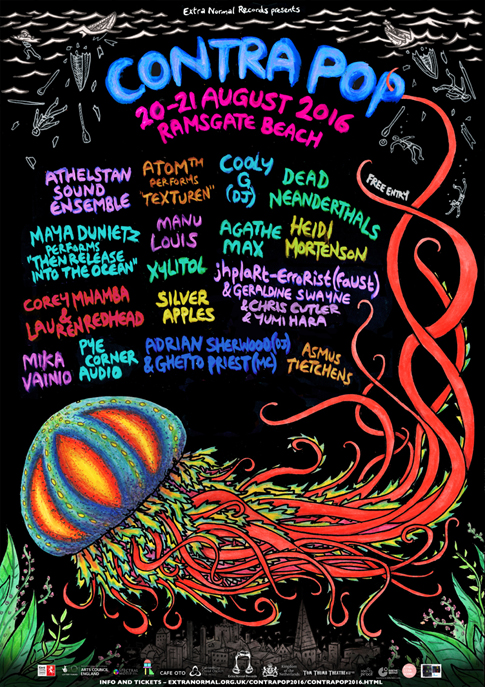 On Saturday 20th and Sunday 21st August 2016, Extra Normal Records presents the second annual Contra Pop Festival, a two-day event encompassing live performances from some of the foremost artists working at the intersection of popular music and the avant-garde. This diverse congregation of musicians epitomises a vibrant European scene far from the clutches of the corporate opportunists who threaten to homogenise pop culture. Contra Pop 2016 will boast a purpose-built stage and sound system located on the sandy beach of the historic town of Ramsgate in Kent.

With entry free of charge, local and international beers available on the premises and a variety of cafés and restaurants only a stone's throw away, Contra Pop 2016 is another rare opportunity to absorb the cutting edge of the musical underground in a quintessential seaside setting.

Artists include:
Saturday: Athelstan Sound Ensemble, Cooly G (DJ), Manu Louis, Heidi Mortenson, jhp|aRt-ErroRist (faUSt) & Geraldine Swayne & Chris Cutler & Yumi Hara, Pye Corner Audio, Asmus Tietchens, Xylitol.

Sunday: Atom™ performs 'Texturen', Dead Neanderthals, Maya Dunietz performs 'Then Release into the Ocean', Agathe Max, Corey Mwamba & Lauren Redhead, Adrian Sherwood (DJ) & Ghetto Priest (MC), Silver Apples, Mika Vainio.

Like last year, we are accepting your generous donations to help with the running of the festival.
We are covering Eventbrite's and Paypal's processing fees for this, so whatever amount you kindly pledge will also be your grand total (i.e. no added charges). Thanks so much to everyone who contributed last year.

Look forward to seeing you on the beach.

More information at: www.extranormal.org.uk/contrapop2016/contrapop2016.html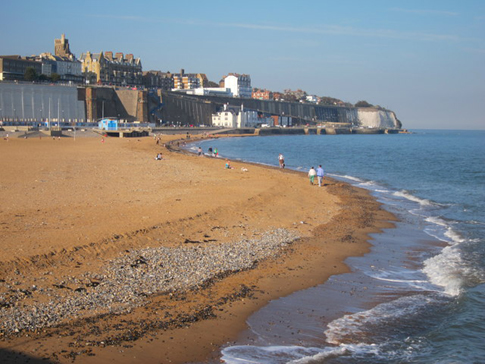 NEWS FLASH!
The Contra Pop Festival 2015 compilation CD will be released on Saturday 20th August 2016 and will be available exclusively at Ramsgate beach.

The compilation includes several tracks recorded live at last year's event, combined with a selection of previously (un)released offerings by festival artists. We are delighted that every single live act that performed at Contra Pop 2015 is represented here and we would like to thank the artists for embracing the project.

CD1

1. Kayaka (8:16)
2. Tomaga (7:51)
3. Pierre Bastien ( 10:45)
4. Evan Parker and Matt Wright (10:35)
5. Richard Dawson (4:38)
6. Richard Youngs (5:24)
7. Ghédalia Tazartès (4:56)
8. Orlando (6.49)
9. Trelawney (4:08)
10. Ravioli Me Away (2:02)
11. Pega Monstro (4:32)
12. Gnod (5:16)

CD2

1. Klara Lewis (2:29)
2. Don't DJ (8:40)
3. Peder Mannerfelt (4:24)
4. Petrels (11:11)
5. Giant Swan (10:20)
6. Golden Teacher (8:09)
7. Dick El Demasiado (2:18)
8. Felix Kubin (1:54)
9. Bass Clef (6:52)
10. Heatsick (4:52)
11. Adrian Sherwood (5:43)
__________________________________________________________________

Frequently Asked Questions

Q: Can I bring my children to Contra Pop?
A: Children are very welcome and there's no need to reserve them a ticket – the event will have something of a 'PG' rating. We would recommend that children (especially toddlers) remain with a parent or guardian outside the event marquee as the sound frequencies produced by the PA system may be damaging to young ears. We anticipate that the marquee will become more adult-friendly than child-friendly as night falls, but, again, this is open for interpretation by parents.

Q: Can I bring my dog to Contra Pop?
A: Unfortunately, dogs are not allowed on Ramsgate Main Sands at this time of year.
__________________________________________________________________

Save
Save
Save
Save
Save
Save
Save
http://extranormal.org.uk/Contrapop2016/Artists2016/Jhp/jhp.html
When & Where

Ramsgate Beach

CT11 8LP Ramsgate
United Kingdom


Saturday, August 20, 2016 at 12:00 PM

-

Sunday, August 21, 2016 at 11:00 PM (BST)
Add to my calendar