Location
Ramsgate Beach
Main Sands
Ramsgate
CT11 8LP
United Kingdom
On Saturday 20th and Sunday 21st August 2022, Extra Normal Records presents the fifth edition of Contra Pop Festival on Ramsgate Beach.
About this event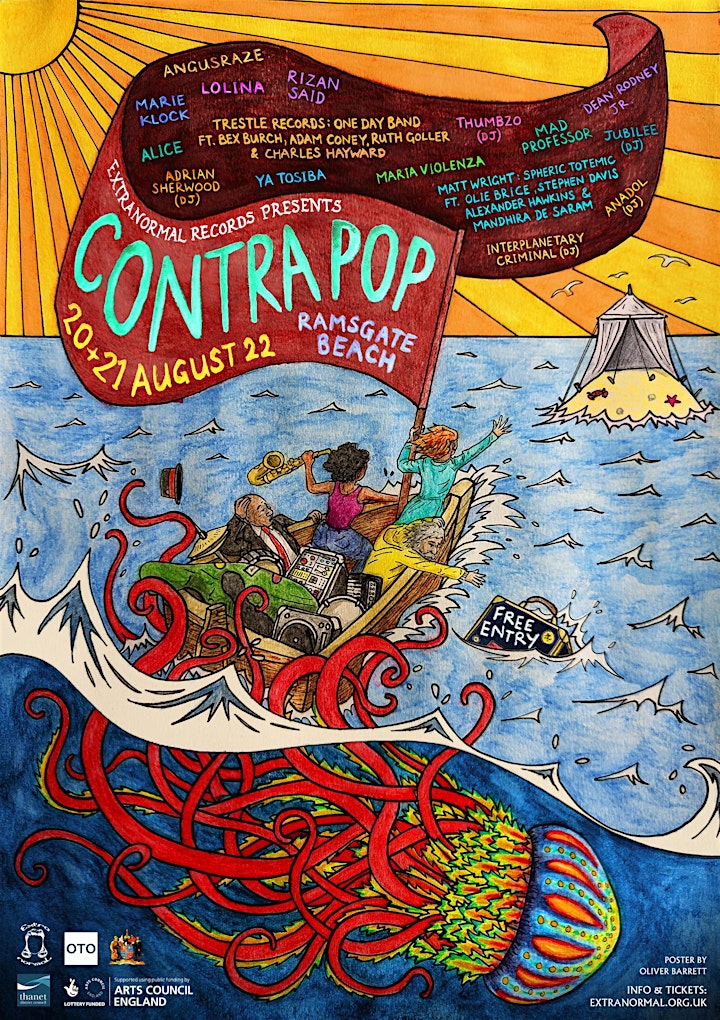 Contra Pop Festival is a two-day event encompassing live performances from some of the foremost artists working at the boundary between experimental music and pop. This diverse coming-together of musicians epitomises a vibrant international scene far from the clutches of the corporate opportunists who threaten to homogenise popular culture. Contra Pop 2022 will boast a purpose-built stage and sound system located on the sandy beach of the historic town of Ramsgate in Kent. With entry free of charge, local beverages (courtesy of Time & Tide, Gadds' and Kent Cider) available on the premises and a variety of cafés and restaurants only a stone's throw away, Contra Pop 2022 is a rare opportunity to absorb the cutting edge of the musical underground in a classic seaside setting.
Saturday: Alice; Anadol (DJ); Jubilee (DJ); Marie Klock; Mad Professor; Rizan Said; Thumbzo (DJ); Trestle Records: One Day Band ft. Bex Burch, Adam Coney, Ruth Goller & Charles Hayward.
Sunday: Angusraze; Interplanetary Criminal (DJ); Lolina; Dean Rodney Jr. & The Cowboys; Adrian Sherwood (DJ); Maria Violenza; Matt Wright: Spheric Totemic ft. Olie Brice, Stephen Davis, Mandhira de Saram & Alexander Hawkins; Ya Tosiba.
As in previous years, we are accepting your generous donations to help with the running of the festival. We are covering Eventbrite's and Paypal's processing fees for this, so whatever amount you kindly pledge will also be your grand total (i.e. no added charges). Thanks so much to everyone who has contributed in previous years. Collectively, you have raised an average of £1,084 per year which has been vital to the sustainability of the festival.
Look forward to seeing you on the beach!
More information at www.extranormal.org.uk/contrapop2022/contrapop2022.html and on our Instagram and Twitter.
Frequently Asked Questions
Q: Can I bring my children to Contra Pop?
A: Children are very welcome and there's no need to reserve them a ticket. We would recommend that young children remain with a parent or guardian outside the event marquee as the sound frequencies produced by the PA system may be damaging to young ears. We anticipate that the marquee will become less child-friendly as the evening goes on, but, again, this is open for interpretation by parents.
Q: Can I bring my dog to Contra Pop?
A: Unfortunately, dogs are not allowed on Ramsgate Main Sands at this time of year.
Q: Is Contra Pop Covid-safe?
A: No event is 100% risk-free, but Contra Pop is held in a large airy marquee with excellent ventilation, which reduces the probability of transmission considerably compared to an indoor venue. Our team will do everything they can to help keep you safe and we trust that you'll look after each other as well. If you're able to take a lateral flow test before you arrive, please do.