Description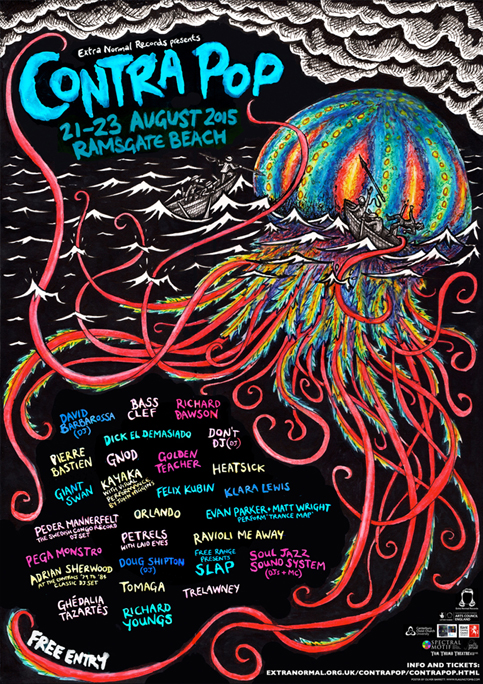 From Friday 21st to Sunday 23rd August 2015, Extra Normal Records presents Contra Pop Festival, a three-day event encompassing live performances from some of the foremost artists working at the intersection of popular music and the avant-garde. This diverse congregation of musicians epitomises a vibrant European scene far from the clutches of the corporate opportunists who threaten to homogenise pop culture. Contra Pop 2015 will boast a purpose-built stage and sound system located on the sandy beach of the historic town of Ramsgate in Kent.

With entry free of charge, local and international beers available on the premises and a variety of cafés and restaurants only a stone's throw away, Contra Pop 2015 is a rare opportunity to absorb the cutting edge of the musical underground in a quintessential seaside setting.

Artists include: David Barbarossa (DJ), Bass Clef, Pierre Bastien, Richard Dawson, Dick El Demasiado, Don't DJ (DJ), Giant Swan, Gnod, Golden Teacher, Heatsick, KAYAKA (with John Higgins), Felix Kubin, Klara Lewis, Peder Mannerfelt (The Swedish Congo Record DJ Set), Orlando, Evan Parker and Matt Wright, Pega Monstro, Petrels (with Laid Eyes), Ravioli Me Away, Soul Jazz Sound System (DJs + MC), Adrian Sherwood At the Controls '79 to '84 Classic DJ Set, Doug Shipton (DJ), Ghédalia Tazartès, Tomaga, Trelawney and Richard Youngs.

We are accepting your generous donations to help with the running of the festival.
We are covering Eventbrite's and Paypal's processing fees for this, so whatever amount you kindly pledge will also be your grand total (i.e. no added charges).

Many thanks and look forward to seeing you on the beach.

More information at: www.extranormal.org.uk/contrapop/contrapop.html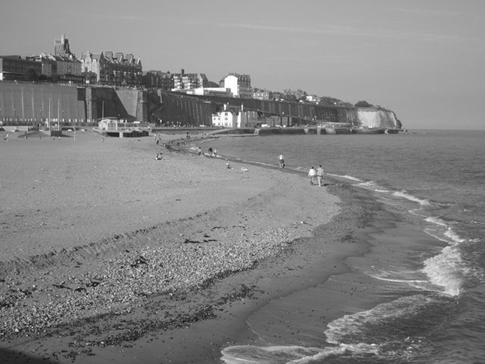 Frequently Asked Question: Can I bring my children to Contra Pop?
Children are very welcome and there's no need to reserve them a ticket – the event will have something of a 'PG' rating! We would recommend that children (especially toddlers) remain with a parent or guardian outside the event marquee as the sound frequencies produced by the PA system may be damaging to young ears. We anticipate that the marquee will become more adult-friendly than child-friendly as night falls, but, again, this is open for interpretation by parents!