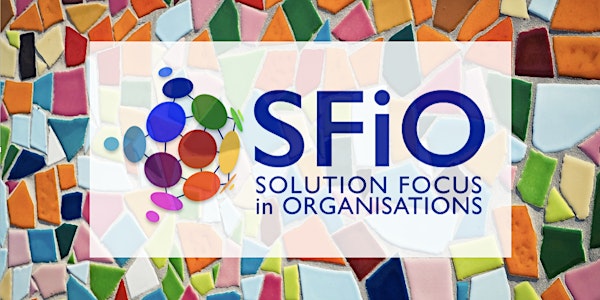 Contribute financially to SFiO for 2022 and energise our initiatives!
Event Information
Refund policy
Contact the organiser to request a refund.
Eventbrite's fee is nonrefundable.
About your financial contribution to SFiO
About this event
SFiO is an international collective of Solution Focused Practitioners who learn together and evolve SF practice in organisations.
Our priorities in 2022 are to continue building the InterAction Collection of articles and videos, connect contributors in global and local SFiO events and sponsor other SF initiatives around the world.
To contribute to SFiO from February 2022 to January 2023, you can choose between tickets for £25, £45, £65, £85, £100.
Here's what SFiO can do with your contribution:
Your £25 contribution - helps to cover operating costs, including online events
Your £45 contribution - also helps to build the InterAction Collection
Your £65 contribution - also helps to sponsor SF events globally
Your £85 contribution - also helps to organise SFiO events
Your £100 contribution fully supports everything SFiO does!
As well as the above, by becoming a contributor you can influence the future direction of SFiO and what we choose to fund.
Click on the green 'tickets' button above to choose your ticket. Please choose only one ticket unless you wish to make multiple contributions. Eventbrite will send a receipt of your contribution.
We wish to make SFiO accessible to all, including young practitioners and others, who may find it difficult to contribute financially at present. If that is you, register for a complimentary ticket.
The SFiO community is a sharing community and all of our resources can be viewed at no charge (but not reused, as the authors share the copyright). They are available to all who wish to learn about SF and connect with the wonderful SFiO practitioners in organisations across the globe. This is one reason we ask for contributions rather than have a Membership system. To read more about our contributor model, please visit this page.
Date and time
Location
Refund policy
Contact the organiser to request a refund.
Eventbrite's fee is nonrefundable.