Location
The Runnymede on Thames Hotel and Spa
Windsor Road
Egham
TW20 0AG
United Kingdom
Join us at the ConvaTec Stoma Health Roadshow 2019 in Runnymede, Surrey
About this event
There's a whole host of workshops, information, visiting experts and complimentary therapies, specifically designed for those living with a stoma.
Read more about all of the things you can do below.
To book any of the sessions or workshops, simply click the GREEN 'REGISTER' BUTTON.
Book A Stoma Review with a Specialist Nurse

Are you struggling with your stoma care routine or need advice on product choice, or maybe you have sore irritated skin?
For confidential advice and support, book a stoma check up with an Amcare™ Group nurse.
Your one to one appointment will take place in a private setting at the event. For more information, please call one of our ConvaTec me+™ advisors on 0800 467 866.
Don't worry if tickets are sold out - additional drop in sessions will also be available throughout the day - come to the welcome desk and book your appointment.

Guided safe movement with our me+™ recovery team on strengthening your core
Try some gentle exercises to help with your recovery
Take away our guide to exercise so you can continue at home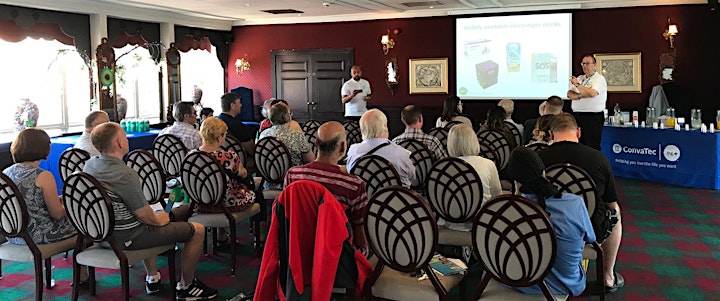 Expert hydration advice from our Amcare™ Group nurses
Dispel the myths about what you can and can't drink
Try some samples of the best rehydration drinks

Session run by our specialist trained counsellors
Join like minded people and open up in a safe environment
Learn ways to help you move forward

Expert advice from stoma nurse Kevin Hayles
Learn about the sexual response cycle, intercourse, outercourse and discretion
Find out about the sexual dysfunctions associated with stoma surgery for both males and females
Complimentary Therapies
No need to book and available all day! Treat yourself to a complimentary therapy.