Private View of Conversation a solo exhibition of works on paper by Alice Herrick at The WALLS at The Barge House
About this event
Exhibition 5 DECEMBER - 31 JANUARY 2021
Private View 11 DECEMBER 4-7pm
A solo exhibition of works on paper, selected by curator C.A. Halpin, from three of Herrick's recent painting series: Swallow, The Actors and Together.
Imagined, characters in conversation with each other, the artist and the audience. Combining her early dance and drama training with a fine art degree background has meant a continual evolvement of a highly physicalised core dynamic in Alice Herrick's works on paper.The flow of thought and action, where masks and tricks of light and shade reveal truer tensions and hidden narratives in plain sight, is disguised in decorous ambiguity. Our gaze tells us a simple tale, but more time and intimate observation bring clues and signs that this portrait or landscape may also be a map to another world; the glance of an eye, the twist of a smile, the curve of a hand, the motionlessness of spheres, captured on a point in time, are all aspects of the artist's own inner world, in a consciousness of which we are all part when we choose to leave ourselves at the door. Julian Firth, 2020
Alice Herrick is a London based artist whose multi-disciplinary practice involves drawing, painting, sculpture, installation, photography, film and performance.
Alice studied at Kingston (B.A. Fine Art Painting) and Chelsea (M.A. Painting) and has exhibited widely, alongside a career as a curator of exhibitions and live art events.
@aliceherrickstudio
www.aliceherrick.co.uk
More Information about the show here
Please book your tickets to the Private View. Only 6 people at the time will be allowed in the gallery. Wearing a mask at all time is mandatory. Our canalside area will be open for guests to order food (see food option below). As per Tier 2 restrictions, all guests sat inside must to be from the same household and shall only be able to order drinks along food . Outdoor seating available until 6pm for mixed household.
********************************
Menu - Private View at The Barge House
********************************
View the Exhibition on the ONLINE GALLERY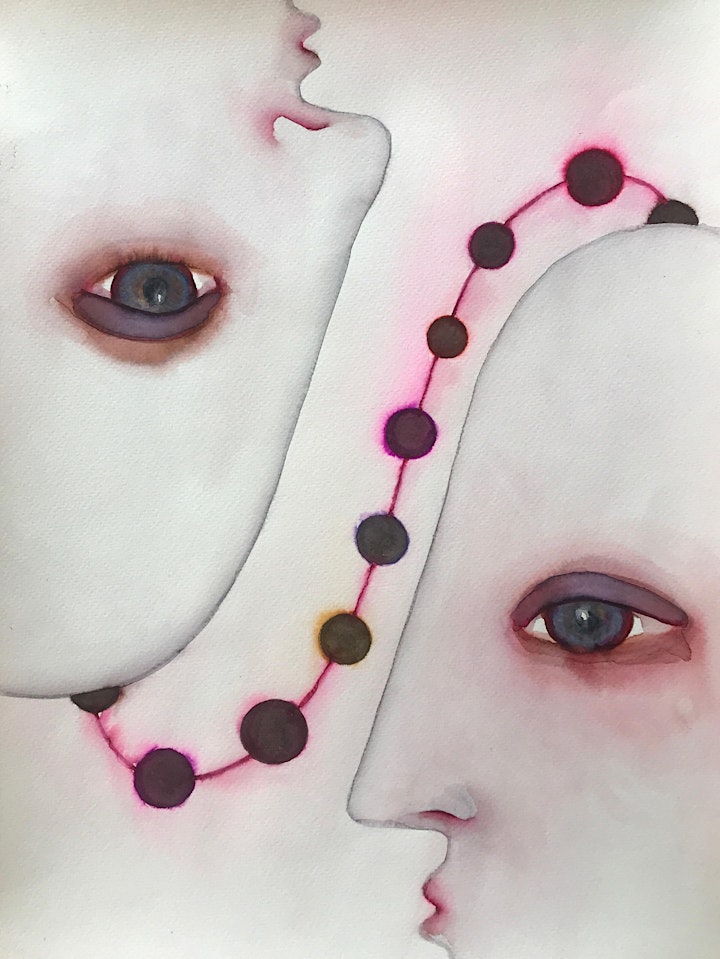 Swallow XII, 2019, ink & acrylic on watercolour paper, 40x30cm
Lead Image:
Together XXXI, 2020, ink & acrylic on watercolour paper, 30x40cm
Also available as a limited edition giclée print on 300gsm watercolour paper, edition of 20 image size: 25.5x33.5cm / paper size: 29.7x42cm
Exhibition has been postponed of its original November date to December 5th to January 31st 2021.