The School of Cyborg presents a conversation with Shannon McRae, Author and Scholar
About this event
The School of Cyborg (SoC) is a project that Dundee Based Digital Art Festival NEoN proposes in a joint effort with students from MA Culture Criticism and Curation from the University of the Arts London. The School of Cyborg, an international group of MA students, will "warm up" the city before the festival: they will be present in Dundee the 6th and 7th of November 2021. It proposes is oriented to tackle Dundee communities' digital gaps and aims to involve local groups to raise consciousness on the theme and to provide tools to be active and work for a change.
We have 2 other programmes, which are AI: A FUTURE OF AUTOBIOGRAPHY and NEW WAYS OF SEEING.
About the Talk
Are we cyborg?
How do we shape our online identities?
Is our online identity political?
The conversation with Shannon McRae will focus on the themes of online identity: from roleplay to catfishing, how our real-life shapes and is shaped online? With the help of the American scholar, we will delve into the short-circuits that happen when IRL and URL collide. We will be using the figure of the cyborg as a thread through which to develop a conversation around queer, feminism, social justice. The event will be oriented towards inclusivity and accessibility, aligning with SoC's aim to engage with local community groups and address the digital gender divide.
In line with NEoN's Wired Women * theme, we will focus on and highlight women's digital art *.
Time: Sunday, 15:00 - 17:00(GMT)
Date: Nov 7, 2021
Location: Kathryn Rattray Gallery and Online Stream
The in-person event will be in Dundee, at the Kathryn Rattray Gallery, 3A Meadowmill, West Henderson's Wynd, DD1 5BY.
Due to access limitations, only a few people can access the gallery. If you are interested in joining our in-person event please contact us send us an email: schoolofcyborg@gmail.com or contact us on Instagram @theschoolofcyborg, so we can discuss your access requirements.
Ticket: FREE ENTRY
About the Artists
Shannon McRae (she/her) is an American Professor of English and Director of Film Studies at the State University of New York at Fredonia. She teaches literature, film, mythology, religion, queer theory, and popular culture. She is interested in bodies, pleasures, the semi-permeability of the boundaries by which we customarily define self and other, technologies of ecstasy, and tracing the cultural stories that instruct humanity in their use. She is currently writing a book about non-mainstream religions, spiritual tourism, and pop-culture paganism in Jazz Age America.
ACCESS KEY: CC
CC - Captioned
Projects marked CC will have live, or pre-recorded captions in English. These captions will express all text spoken. For some of the performance the captions will be optional and instructions on how to turn on the captions will be clearly described on the individual show pages.
Notice: Information is correct at the point of publishing, however, events are subject to alterations if circumstances change.
Instagram: https://www.instagram.com/theschoolofcyborg/
Twitter: https://twitter.com/cyborg_school
Facebook: https://www.facebook.com/schoolofcyborg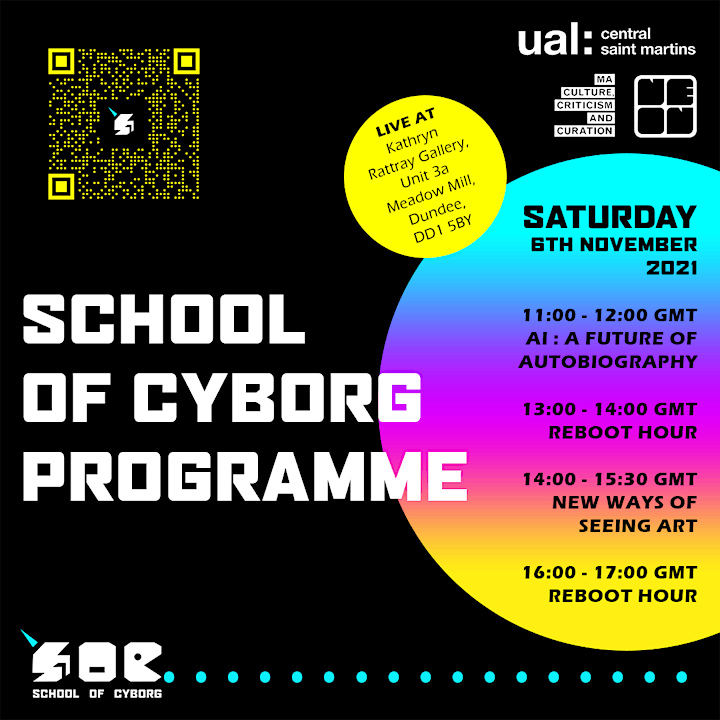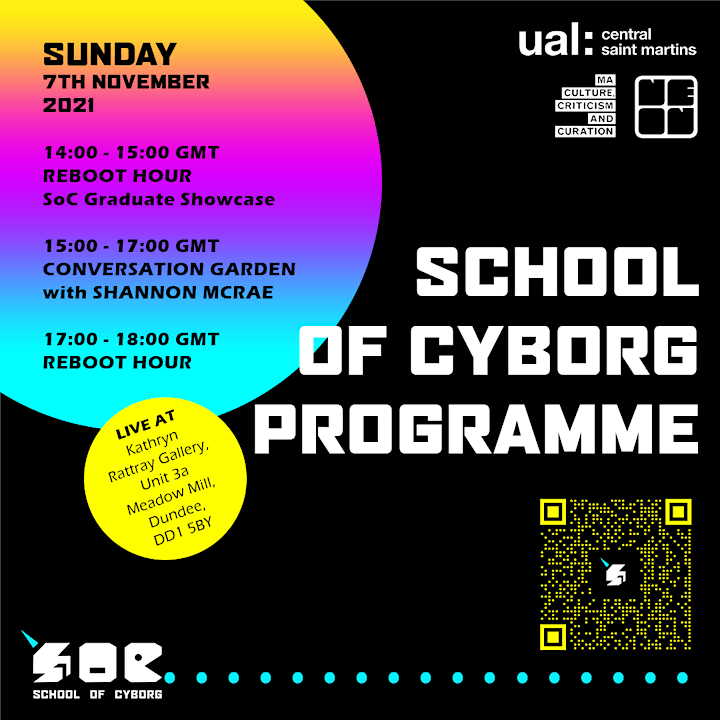 Organiser of Conversation Garden: Are You A Cyborg? with Shannon McRae
Disclaimer 
NEoN Digital Arts provides a platform to host the views of many different artists. The views expressed by the artists or within their work are personal and often represent lived experiences. Any views and opinions are voiced by the artists and do not represent those of people, institutions or organisations that NEoN may or maynot be affiliated with on a professional or personal capacity, unless explicitly stated. Any views or opinions are not intended to malign any religious, ethic group, club, organisation, or individual.
Code of Conduct
NEoN is dedicated to providing a respectful environment for everyone, both in our online programme and require attendance in person. Know the code
Online Event Accessibility - If our event is conducted over Zoom, it will include closed captioning. To make your Zoom experience suit your requirements, please see their accessibility features here.
Here is a great guide to using zoom and how to join a meeting without installing Zoom.
Recording & Transcribing - Due to accessibility requirements within our team, all NEoN online meetings are live transcribed and managed via Otter.com. This is also for staff who cannot attend, prefer to review the content after the event for better comprehension, or who don't have a reliable or stable internet connection. These are anonymised and permanently erased when no longer required. Our Privacy Policy outlines how your personal information is collected, used and treated.
To access live transcribe, in the top right-hand corner, please click on LIVE on Custom Live Streaming Service, then View Stream on Custom Live Streaming Service to open Otter Live Notes in another web browser.
When we use any other services or platforms, we will email you the accessibility guide.