A conversation about artistic practice, care, living materials, liquidity and ecology – part of Spike Island Open Studios Online 2021
About this event
Part of Spike Island Open Studios 2021
A conversation between artists Katy Connor and Veronica Vickery, chaired by curator Nella Aarne, about their mutual interests and concerns weaving across artistic practice, care, living materials, liquidity and ecology.
The event begins with a screening of a short film collaboration, exploring some of the processes, practices and ideas from Connor's and Vickery's ongoing projects HydroPoetics and Estuarine . Following the screening will be a discussion between the artists and curator Nella Aarne, reflecting on María Puig de la Bellacasa's writing on care in more-than-human worlds.
Audience members are invited to contribute to the discussion through the online chat. All registered guests will be sent a PDF of the text Coda from Matters of Care: Speculative Ethics in More Than Human Worlds, María Puig de la Bellacasa (2017, p. 217-221).
NELLA AARNE
Nella Aarne is a curator based in Bradford-on-Avon. She is a Co-Director at Obsidian Coast with artist Sam Smith, and convenes the Of Animacy Reading Group. Envisaging feminist and environmentally sustainable practices, her work considers ethical encounters, collaborative learning and redefined notions of productivity. She is invested in critical thought that calls for heightened sensitivity to our own socio-political and material entanglements with boundless subject positions, histories, living beings, molecular compositions, technological apparatuses and infrastructure.
Nella is also an Associate Lecturer on the MA Curating programme at UWE and has worked with and contributed to projects at Somerset House, London; ICA, London; Arnolfini, Bristol; Glasgow International; Art Licks Weekend, London; and Science Museum, London. She completed the MFA Curating programme at Goldsmiths in 2015, and was the recipient of the Curatorial Junior Fellowship at Goldsmiths in 2015–16.
KATY CONNOR
Katy Connor is a visual artist working in the spaces between embodiment, technologies and materiality. Her current research centres around the practice of hydroponics; exploring the art of growing plants in a chemical solution without the use of soil, particularly in relation to the current ecological crisis. HydroPoetics is supported through Watershed Artist Residency.
Prior residencies have explored biomedical science labs (Blood Culture: Reimag(in)ing Life at a Cellular Scale, Bristol University 2017-19) and remote 'wild' places (Arctic Circle, 2015 and OUTLANDIA, Scottish Highlands 2013) . Through her arts practice she reconciles these contrasting environments as twin aspects of our contemporary media-ecosphere.
Katy has presented her work at Flat Time House (2019), Art in the Anthropocene, Dublin (2019), London Science Museum (2018) and written articles on collaborative art science for Nano-Ethics and Interdisciplinary Science Reviews (2020). Prior exhibitions include Transmediale, Berlin (2013), Konteksty, Poland (2017), Gossamer Fog, Deptford (2017), We The Curious (2018) and Centre of Gravity, Bristol (2020).
VERONICA VICKERY
Veronica Vickery is a visual artist with an interdisciplinary background in art and cultural geography. Her current project is exploring collisions of bodies, water and mud to develop a response to the fragility of this moment and human needs of homing, care and intimacy.
Her working process is heavily influenced by geographical interests from methods (fieldwork) to concerns/theory (politics of landscape, bodies and materiality). She works through research-led, slow-burn projects utilising a range of media including painting, performance to camera and sculptural/living materials and, at the moment, foraged estuarine mud.
Her work has been included in shows at Tate Exchange (2019), the Pavilion, Hauser & Wirth Somerset (2017) and the survey show Imagined Landscapes, Royal West of England Academy (2016). Her art-practice-based PhD in cultural geography (Exeter, AHRC funded, 2016) considered landscape to be in an often violent, persistent process, beyond the cultural framings of landscape-as-image. She publishes academically at the intersection of art and geography.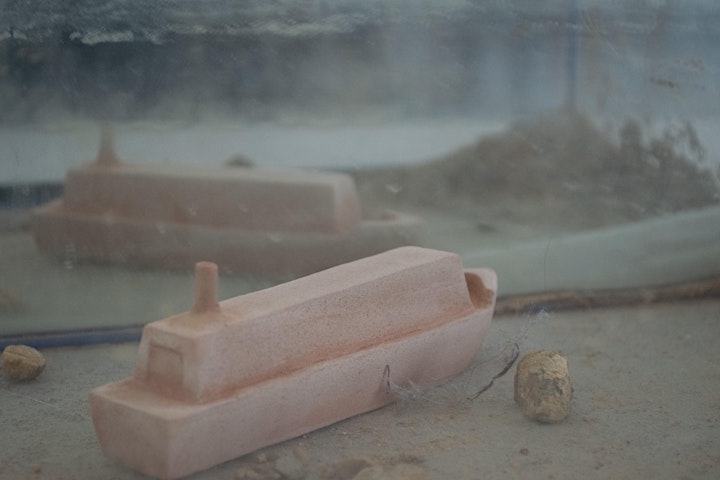 Organiser of Conversation: Vessels, Water, Mud, Care
Spike Island is an international centre for the development of contemporary art and design. Based in Bristol, UK, it is home to a gallery, café and working space for artists, designers and creative businesses. A vibrant hub for production, presentation and debate, we offer opportunities for audiences to engage directly with creative practices through participation and discussion.
Our vision is to position art as central to society, which we do in two ways: by offering a high quality, challenging programme of exhibitions and events; and by fostering a dynamic and critically engaged community of artists and designers. Spike Island collaborates with local and regional partners as well as with international institutions, museums and universities.