Description
Emma Woolf
'The Secret to Happiness: Self-Esteem, Resilience & Body Confidence'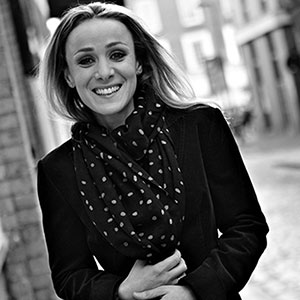 Could the secret to happiness be simpler than you think?
In the 21st century we've made life incredibly complicated for ourselves. Depression is at an all-time high, especially among the young. We're full of anxieties and insecurities, we compare ourselves to others, we spend, work, eat or drink too much to fill up the emptiness. We've become addicted to our digital devices, constantly online while also craving real human contact. We become lonely and isolated in these virtual worlds, caught in a cycle of compare-and-despair. We see the carefully curated lifestyles of others on social media and feel inadequate; we believe we'd be happier if only we were thinner, wealthier, more attractive or more successful.
In reality, none of these things make us happy. Instead we need to come to terms with ourselves, to work on healthy self-esteem, to value our bodies for what they do rather than how they look, and develop resilience for the life-challenges ahead.
Emma Woolf is an author, award-winning journalist and TV presenter: join her to uncover the simple secrets of happiness!
Biography
Emma Woolf is an author, columnist and award-winning journalist. Born and brought up in London, she studied English at Oxford University. She worked in Psychology publishing before becoming a freelance journalist, a columnist for The Times and a writer.
Emma is the co-presenter on Channel 4's Supersize vs Superskinny, as well as other TV and radio work. Her bestselling book, An Apple a Day, has been translated into many languages around the world, and she has gone on to write five more books about health and wellbeing, and two novels.

Emma is the great-niece of Virginia Woolf.
Event Timings:
17.30 Doors open
18.00 Talk commences
19.15 Drinks reception
19.45 Event closes
Location: De Grey Court
If you have any queries about this event or any University event please contact the Events Office on
t: 01904 876654 or e: events@yorksj.ac.uk
York St John University hosts an annual series of public talks and events that are free and open to all. This year, our community events feature a range of contemporary subjects that affect our daily lives and we invite you to join in on the conversations that matter. Reflecting on the topical issues of mental health and wellbeing, our speakers are leaders in their field or popular public figures and all have something of special interest to share with you. Find out more about the events in our 2018 series here.