Description
Yorkshire Rows
Mind, Body and Oars: Taking on the Toughest Rowing Race on Earth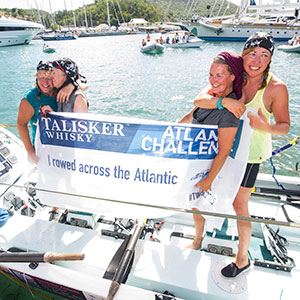 Image Credit: Ben Duffy
Yorkshire Rows is a team of four formidable mums from Yorkshire who are the first women to row across the North Sea and who also hold a world record for rowing across the Atlantic. First impressions of these four courageous women is that they are not professional sports women rather they are four ordinary working mums who "dared to dream". The four women all from Yorkshire took up rowing at a local club 4 years ago. Each week after taking their children to school they would venture out onto the river Ouse and learn to row, rounded off with tea and cakes and then straight back to work in the afternoon. In January 2013 they decided to take on the herculean task of entering the world toughest rowing race 3000 nautical miles from the canaries to Antigua. It took almost 3 years to plan and prepare for the row. The story they tell is incredible, inspiring, motivating, humbling and funny. These women are Yorkshire's own heroes.
Event Timings:
17.30 Doors open
18.00 Talk commences
19.15 Event closes
Location: De Grey Court
If you have any queries about this event or any University event please contact the Events Office on
t: 01904 876654 or e: events@yorksj.ac.uk
York St John University hosts an annual series of public talks and events that are free and open to all. This year, our community events feature a range of contemporary subjects that affect our daily lives and we invite you to join in on the conversations that matter. Reflecting on the topical issues of mental health and wellbeing, our speakers are leaders in their field or popular public figures and all have something of special interest to share with you. Find out more about the events in our 2018 series here.
Privacy Policy
York St John University will use the data you submit in Eventbrite for the purposes of administering this event. York St John University utilises third party software for data storage, tracking and analysis activity but your details will not be used by any of these third parties in order to contact you Any data you share with us will be used to help us improve your event experience and for event tracking and analysis activity within the University.
We will only send you important information and reminders related to the event you have booked unless you tell us otherwise. During the booking process, if you opt in to receive emails about the latest events hosted and supported by York St John University, you consent to York St John University contacting you with relevant information.
If you no longer wish to hear from us you can opt out at any time by changing your contact preferences via the link in emails you receive from us or by contacting us: events@Yorksj.ac.uk /01904 876654.