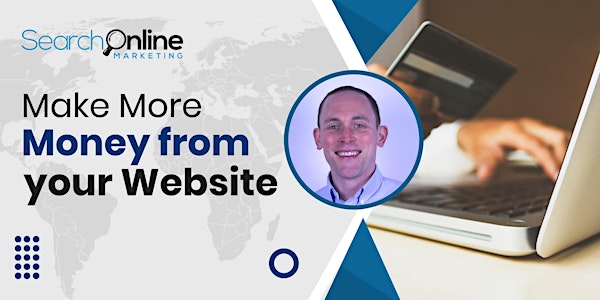 Conversion Rate Optimisation - How to Win More Business from Your Website
Event Information
Refund policy
Contact the organiser to request a refund.
Eventbrite's fee is nonrefundable.
Not getting enough customers or leads through your website? Find out how to maximise conversions and win more business online.
About this event
There will be a maximum of 10 delegates on this course to ensure quality support is given.
This is unlike other one off digital marketing training courses.
What you will get as an attendee:
3x 1 hour online seminars over 3 weeks, every Thursday 7-8pm.
Unlike most courses that are run as a 'one off' event. You will join a training session each Thursday evening, then have a week to put ideas into practice.
Access to a joint Whatsapp group to discuss progress and share ideas/problems with other attendees and myself.
Free resources and guides to help you with your digital marketing.
About the Course
Getting potential customers to your website can be expensive. Whether your business uses social media, SEO, Pay Per Click ads, leaflet drops or print advertising bringing visitors to your website costs money.
If your website isn't converting visitors into customers, then a significant portion of your advertising spend will be wasted and you will be losing potential income.
During this course we will identify some of the main reasons why visitors leave websites and our top tips to ensure your website converts as many visitors as possible.
Attendees will have a clear knowledge of how to evaluate, test and analyse their website along with how website users interact with their site. By understanding these key principles, attendees will be armed with the knowledge that will see them able to make alterations to their website, analyse and test increased levels of conversions and ultimately end up with a website that has a higher conversion rate than the standard 1-2%.
Recent Feedback (taken from Google Business)
"I recently attended one of Jamie's online training events. He was friendly, professional & has an excellent knowledge of digital marketing.
Jamie provided practical advise on ways to attract & promote businesses on digital platforms without incurring high costs.
Fusion HR Ltd (Liverpool) will be using Jamie's invaluable skills & knowledge in the future."
"We attended Jamie's seminar SEO: improving website ranking. He was very knowledgeable, explained everything very clearly and was happy to answer any of our questions. I feel that attending this seminar will definitely help us improve our website ranking."
"Having attended a couple of virtual course I would highly recommend Jamie. His knowledge in social media and online market is outstanding. Thanks Jamie"
"I recently attended an online webinar hosted by Jamie. He presented a structured and professional talk over few hours packed with really useful information which could help save small businesses money, by identifying their needs in a realistic way and showing small local business owners things like ways to rank higher if they wished to do so. Thanks Jamie it was great seeing everyone 👍
I'd recommend his webinars."
"I recently attended a SEO webinar where Jamie was guest speaker. He really knows his stuff and came across as very friendly and professional. Whilst the subject of SEO could be mind boggling to some, Jamie takes this into consideration and presents in a way that everything was easy to follow and understand. Whilst I haven't had the opportunity to work closely with him, I can confidently say that he and his business will do everything in their power to help you reach your goals!"
Date and time
Location
Refund policy
Contact the organiser to request a refund.
Eventbrite's fee is nonrefundable.