Convoy accelerates job hunts and supercharges start-ups! Join us for an intro to see how Fearless Accountability and Community Get It Done.
About this event
53% of Convoy job hunters found roles in 2-3 months! (September 2021)
We've learned that job hunting works so much better, as do most things, in a team. We've also discovered that when you add accountability, you have a potent mix that accelerates success.
Join us to discover how the magic happens (Zoom details will be provided once you register).
Oh, one more thing - Convoy is currently, and will be for as long as possible, offered free at the point of need.
Convoy started in July 2020 to help take loneliness out of job hunting. It's grown into a community that supports members by leveraging each-others' networks and holding each other to account to take practical steps every working day in pursuit of our individual goals, be that a new job/gig/contract or the creation of a new business.
This brief video talks about Convoy: what it is, how it works, and who it is for.
See you there!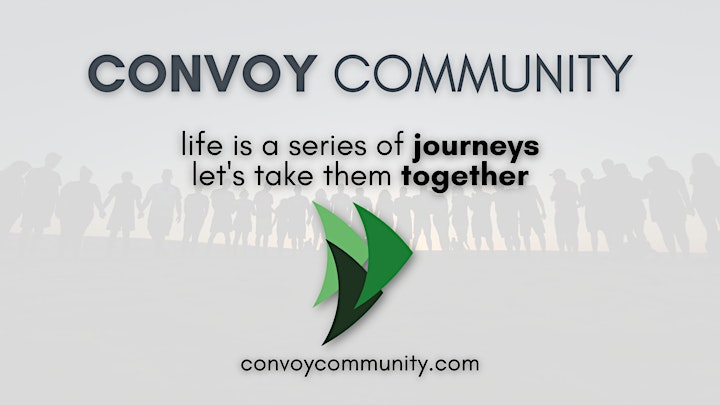 Organiser of Convoy Community Introduction - accelerating the search for your next role
Convoys are groups of people on similar journeys, each with their own destination.
What journey are you on?
Searching for a new job or gig?
Starting or developing a new business?
Getting embedded in a new role?
Pivoting your career?
Whatever your chosen path, there are others on similar journeys.
Travelling with others is inspirational, motivational, and better for your mental well-being!
Our intention is that, with the support of a Convoy, you reach your destination - a new job or gig, career pivot or start-up - with a bunch of new friends, some good stories, and your sanity intact.
You arrive undamaged, untraumatised by the journey, and ready to Rock Your New Role (tm)!
Find out more about the CONVOY COMMUNITY at our next introduction (it's free!)
https://www.eventbrite.co.uk/e/139790329639
Convoy is offered free at point of need.