Description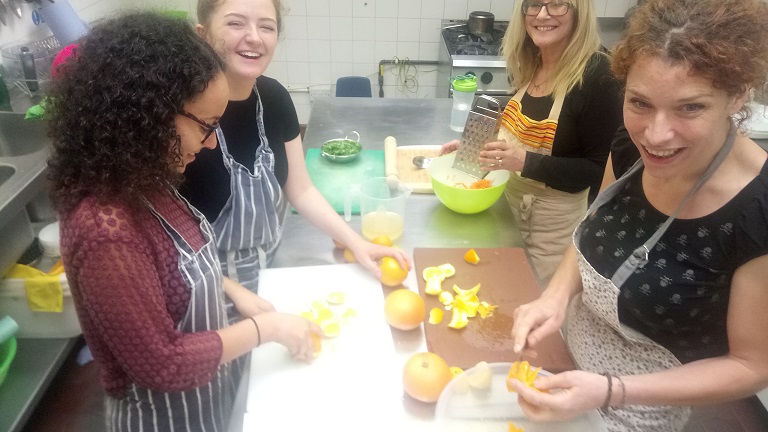 Taking bookings now for our 2019/2020 classes. For group bookings and all enquiries please email allthingsfood@hotmail.co.uk and we can tailor make a class for you and your friends/colleagues.
Awesome Autumn V, Vg Wed 25th Sept, Wed Oct 2nd, Oct 9th at 12pm or 6.30 pm
Korea & South East Asia V, Vg Wed Oct 16th, Wed Oct 23rd, Wed Nov 20th at 12pm or 6.30pm
Moreish Middle Eastern V,Vg Wed Jan 15th 2020 at 12pm or 6,30pm
Temple Cuisine ( Vegan ) Wed Jan 8th, 22nd at 12pm or 6.30pm
Welcome to a new vegetarian cooking class based in Didsbury, Manchester.These classes are a mix of demonstration and hands on cooking intended to be relaxed, social and suitable for all abilities.Over the next few months we will be featuring Korean, Thai, Classic British, Temple cuisine and much more. For most classes, we'll make a main course & some sides dishes, then sit down and eat our creations together.The classes run for approximately one and a half hours to two hours. Tickets and Gift Vouchers are also available to purchase at the Healthy Spirit shop, 37 Barlow Moor Rd Didsbury. M20 6TW.Twitter @veg_all Facebook All Things Veg UK
Awesome Autumn V, Vg Wed 25th Sept, Wed Oct 2nd, Oct 9th at 12pm or 6.30 pm
It's a wonderful time of the year for cooking, the end of the bountiful summer with a hint of frost in the air. Come to this class for some innovation and inspiration for your autumn cooking. Using the best of our seasonal produce, think fennel, spinach, cobnuts and minestrone with crunchy kale. We'll make some healthy salads with a twist and cockle warming soups and main courses.
Korea & South East Asia V, Vg Wed Oct 16th, Wed Oct 23rd, Wed Nov 20th at 12pm or 6.30pm
Korean food is some of the healthiest on earth, with an emphasis on vegetables,rice, meats cooked simply and without much oil, and a near obsession with the fermented vegetable kimchi, which can be something of an acquired taste for non-Koreans.
We'll make our own fermented Kimchi, some South East Asian side dishes, and discover these cuisines' staple ingredients.
Moreish Middle Eastern V,Vg Wed Jan 15th
Grains play an essential and versatile role in this diet, with dishes varying from burghul pilaf with chickpeas, to antipasti cous cous salad and smoked freekeh risotto. Dairy staples include labna and haloumi, while lentils, vegetables and meats are also commonly eaten.
So who doesn't love a great falafel with creamy hummus? We'll make some well known traditional dishes and some modern interpretations and plating styles.
Temple Cuisine ( Vegan ) Wed Jan 8th, 22nd at 12pm or 6.30pm
Temple cuisine originated in Buddhist temples and is meat free but varies in style and ingredients across Japanese,Thai, Korean and other centres of buddhism. Onions, garlic,leeks etc are generally avoided but the flavouring of food is more than made up with fermented or pickled vegetables, red pepper paste and deeply flavoured soya sauces.
We'll make some dishes to tickle your tastebuds and inspire you.
Sample Dishes
Kimchi Making, Fermentation & Pickling
Gigantes Plaki (Greek Giant Baked Beans) Seeded Soda Bread
Shiitake Mushroom Fritters Spring onion & Wild Rice Pancakes
Chickpea & Endamame Salad
FAQs
Are there ID or minimum age requirements to enter the class?
The classes are for over 18's only unless otherwise stated, some courses for children over 12 may be added during school holidays.
What about food allergies?
Unfortunately, we are unable to accept bookings for people with severe allergies as nuts and all major food allergens are used in our kitchen.
What do I need to bring to the event and what do I need to know about the class?
An apron will be provided to use during the class but please wear clothes you don't mind getting messy ( hopefully not! ) and comfortable closed toe shoes.

By attending our cooking class you realise that you will be cooking, working with knives and kitchen stoves, ovens and other hazards. You will be briefed on health and safety, and we can accept no responsibility for injuries or illness that may result.
The classes are intended to be social and to share a love of food while learning some new recipes and techniques.
How can I contact the organiser with any questions?
You can email allthingsfood@hotmail.co.uk
What's the refund policy?
All bookings are strictly non-refundable but they are transferable to a date not longer than 2 months from the original booking if notice of 7 days prior to the original booking is made.The contact details provided on booking will be used for all correspondence so please let us know of any changes.
If we have to cancel a class for unforeseen reasons we will contact attendees as soon as possible and a full refund will be issued via method the class was originally paid.

Date and Time
Location
Refund Policy