An hour-long, interactive and multi-faith event to commemorate what should have been the start of COP26
About this Event
Tickets have now sold out for this event and we are working to increase capacity. Please sign-up to our waiting list and we will be in touch shortly about access.
Hope for the Future are hosting this event, in collaboration with Faith for the Climate, to bring together constituents and MPs from across the UK to mark the previous start date of COP26. Please join us to reflect on the potential of this coming year, in the run up to the new conference start date in November 2021
This event welcomes people from all faith traditions and backgrounds, as well as MPs from across the political spectrum, to reflect, share and consider the vision of this year as the UK prepares to host the UN's annual international climate negotiations in November next year.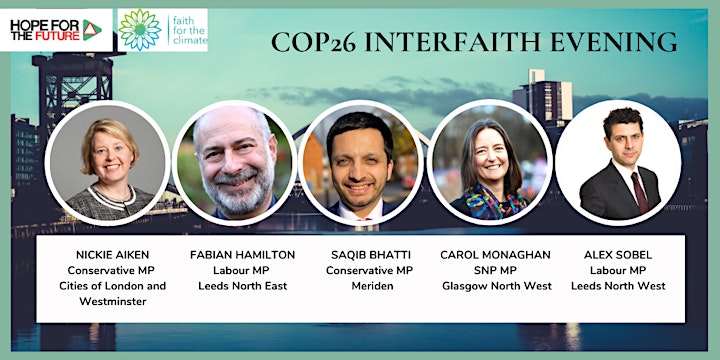 Join us to hear reflective contributions from...
Isabella O'Dowd, Senior Climate Change Specialist at WWF.
Nickie Aiken, Conservative MP for Cities of London and Westminster.
Kate Hughes, Director for International Climate Change at BEIS.
Dr Hardeep Singh, Sikh.
David Midgely, Buddhist.
Fabian Hamilton, Labour MP for Leeds North East.
Maria Faundez, the Brahma Kumaris.
-
Jonathan McAveety, Senior Campaigns Officer at Scottish Catholic International Aid Fund.
Carol Monaghan, SNP MP for Glasgow North West.
Rajesh Purohit, Hindu.
Saqib Bhatti, Conservative MP for Meriden.
Hannah, Christian.
Alex Sobel, Labour MP for Leeds North West.
Dr Shanon Shah, Network Coordinator for Faith for the Climate.