Online event for young professionals about COP26 hosted by U&i Global with GPODS, India.
About this event
U&i Global is building the home of sustainable development. The premier multimedia channel and website portal for young professionals across the world to engage in this global movement for good. From experts, organisations, businesses, and passionate young professionals, U&i is the go-to place for all of these groups around the issue of sustainable development in the 21st Century
U&i Global is partnering with GPODS to host an online event for young professionals about COP26. The event will feature 8 high profile speakers in a round table discussion.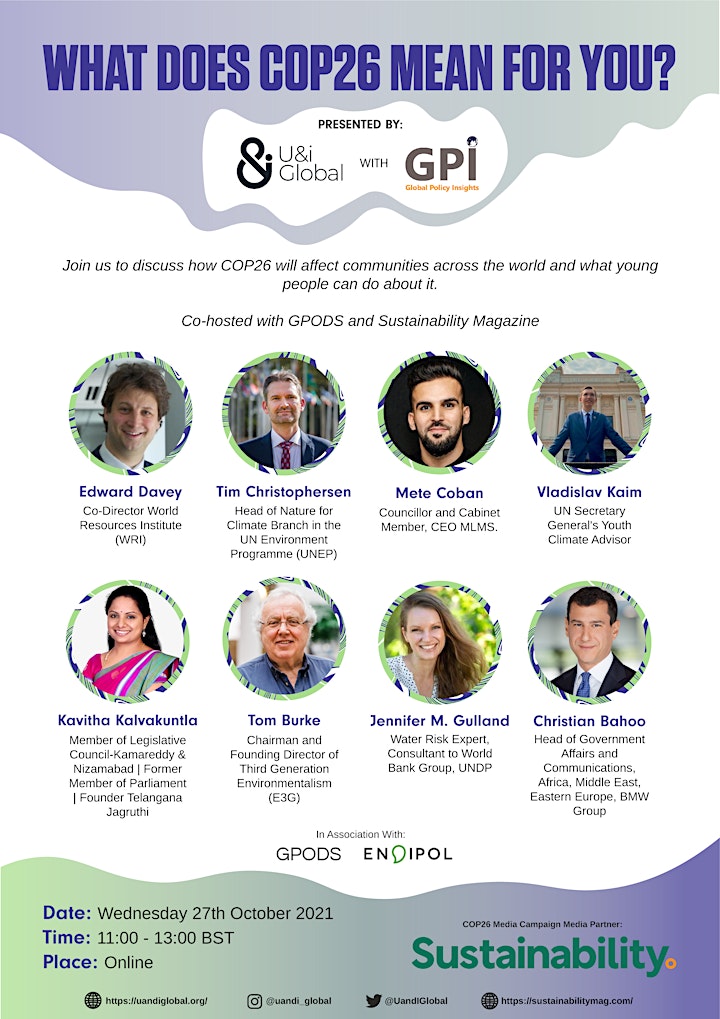 Featured speakers:
1. Edward Davey
International Engagement Director of the Food and Land Use Coalition
Co-Director of World Resources Institute (WRI) UK office
Advisor to the UK COP26 Presidency's Nature campaign
2. Tim Christophersen
Head of Nature for Climate Branch in the UN Environment Programme (UNEP)
Senior Programme Officer of the UNEP's Forests and Climate Change
3. Jennifer M. Gulland
Water Risk Expert, Consultant to World Bank Group, UNDP, Circle of Blue and Multinational Companies
Advisory Board Member for Vector Center
4. Vladislav Kaim
Member of the United Nations Secretary General's Youth Advisory Group on Climate Change
5. Kavitha Kalvakuntla
Member of Legislative Council, Nizamabad
Founder of Telangana Jagruthi
6. Tom Burke
Chairman and Founding Director of Third Generation Environmentalism (E3G)
7. Mete Coban
Councillor and Cabinet Member for Energy, Waste, Transport and Public Realm at London Borough of Hackney
Chief Executive and Founder of My Life My Say (MLMS)
8. Christian Bahoo
Head of Government Affairs and Communications, Africa, Middle East, Eastern Europe, BMW Group
Organiser of COP26: Now or Never.