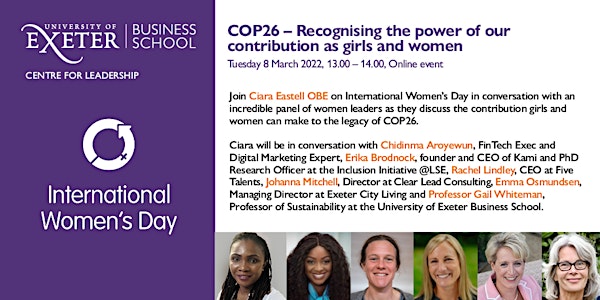 COP26 – Recognising the power of our contribution as girls and women
An International Women's Day event hosted by the Centre for Leadership at the University of Exeter Business school
About this event
Event details
Date: Tuesday 8 March 2022
Time: 13:00 - 14:00 GMT
Location: Online event via Zoom
Audience: This event is open to all
Join us on International Women's Day in conversation with an incredible panel of women leaders as they discuss the contribution girls and women can make to the legacy of COP26.
Our panel will be chaired by Ciara Eastell OBE, Professor of Practice at the Business School and includes:
REGISTRATION
Please register using the 'register' link on this page.
If you wish to register without using Eventbrite, or if you have any questions regarding the event please contact: business-school-events@exeter.ac.uk
Please note this event will be recorded.
DATA PROTECTION AND PRIVACY
To aid organisation of this event, attendee information may be shared with relevant staff in the University e.g. a list of attendees could be provided to the University host, guest speaker.
We will store your information securely, so that we can communicate to you about the event (e.g. cancellation of event, changes to the itinerary, a satisfaction survey).
We delete our access to personal information on Eventbrite after 6 months.
More information on the University's privacy policies can be found here.
For more information on Eventbrite's own privacy policy, please visit this page.