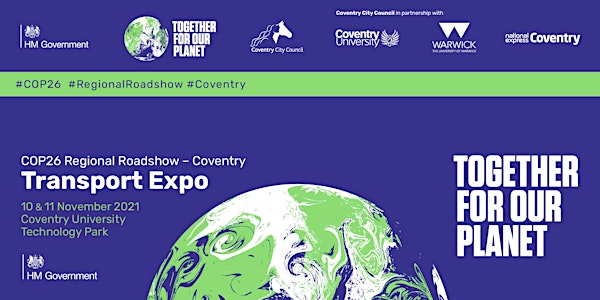 COP26 Regional Roadshow, Coventry
Location
Coventry University Technology Park
Puma Way
Coventry
CV1 2TT
United Kingdom
Coventry City Council is delighted to be one of four COP26 Regional Roadshow hosts in the Midlands.
About this event

Building on the success of Our Future Moves, we'll be hosting an exclusive Transport Expo event at Coventry University Technology Park taking place on 10 and 11 November to coincide with the Transport and Built Environment days of COP26, which is being held in Glasgow this year.
Our Transport Expo features an exclusive tour of the National Transport Design Centre (ntdc) to reveal innovative prototypes of low carbon materials, and a simulation centre visit, with augmented reality technology highlighting how zero carbon transport will interact with Coventry's infrastructure.
We'll also visit the Centre for Advanced Low Carbon Propulsion Systems (C-ALPs) where you can see the hydrogen lab and understand the importance of net zero in our battery and car manufacturing industry.
In our micromobility session, we'll look at smaller vehicles which are more efficient and great for making short distance journeys. A number of e-leisure vehicles will be available to trial on the day such as e-rickshaws, e-bikes and e-scooters.
We'll complete our event with a 'Tour and Talk' on an electric bus in Coventry where you'll get to hear about some of Coventry's fantastic innovations, such as becoming an all-electric bus city, the new Coventry Very Light Rail and the Urban Airport offering delegates an insight into the path ahead.
Motofest will be premiering the Moving Our Futures documentary alongside the Regional Roadshow, at noon on 10 and 11 November at Coventry University. For more details, and to sign up, visit the Eventbrite page.