Powering the Green Industrial Revolution: Join the North West COP26 Regional Roadshow to discuss all things energy, industry and net zero!
About this event
COP26 Regional Roadshow:
Powering the Green Industrial Revolution
The North West has ambitions to become the UK's first net zero region by 2040. If that's to become a reality we need radical change when it comes to the energy that drives our powerhouse industries and keeps the North moving. From tidal power and nuclear, to hydrogen production and offshore wind, the North West is already innovating and at the epicentre of the transition to low-carbon energy – with a unified plan.
The birthplace of the industrial revolution, the North West is now spearheading a new green revolution. Join us as we hear how the mission to decarbonise our energy, transport and business is driving a new era of productivity ... futureproofing our existing and emerging energy-intensive industries.
You'll hear from those leading some of the region's biggest and most forward-thinking energy projects; adapting and rising to the climate challenge. You'll also hear from the industries making leaps in slashing their carbon emissions; and the civic and business leaders collaborating to accelerate the clean fuel transition to unlock a powerful green economy.
About the event
Coinciding with COP26 in Glasgow, the North West series of events provide an opportunity for those in the region to get involved in the climate discussion.
The full day conference is free to attend and can be attended in person or streamed online (please note preference when registering).
A mix of keynote speeches and panel discussions, the conference will include lunch, refreshments and fantastic networking opportunities throughout the day.
SPEAKERS TO BE ANNOUNCED SHORTLY!
Key timings for the day are:
09:15: Arrival refreshments and networking
10:00: Opening address
10:15: Key note addresses and panel discussions
12:30: Lunch and networking
13:30: Key note addresses and panel discussions
16:00: Close of conference
Confirmed speakers
We're delighted to be joined by a fantastic line-up of speakers, panelists and hosts, all with insightful contribution to the net zero debate. There'll be lots of chance for discussion and questions from delegates too! You can expect to hear from:
Alstom
Cadent
Cheshire & Warrington LEP
Cumrbia LEP
Department for International Trade
Farm Urban
Glass Futures
Halton Borough Council
HyNet North West
INOVYN
Johnson Matthey
Knowsley Borough Council
Lancashire County Council
Liverpool Chamber of Commerce
Liverpool City Region Combined Authority
Manchester Airport Group
Mersey Tidal
Net Zero North West
North West Hydrogen Alliance
Offshore Energy Alliance
Peel NRE
Pilkington
Scottish Power Energy Networks
Tata
Warrington Council
Our sponsors
The North West is thrilled to be supported by some of the region's most active organisations involved in creating a low carbon future. They're sponsoring the programme of North West events to be held within the region, online and in Glasgow as part of COP26 - the international climate change conference being hosted by the UK.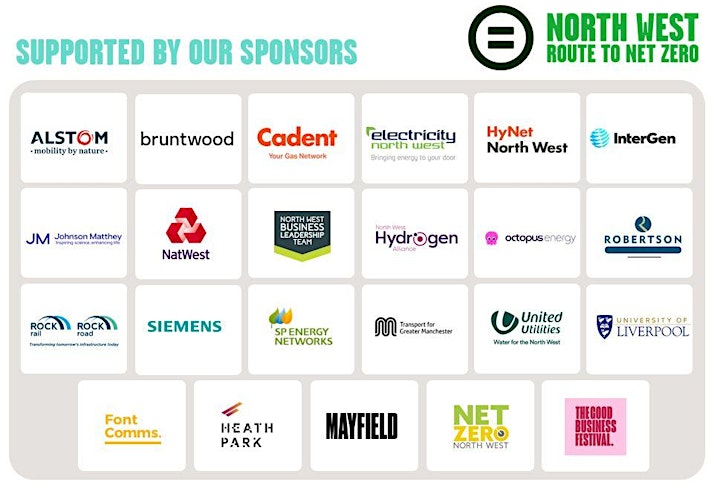 Providing your details
The purpose of us collecting your data is to register you for the event and verify your identity upon entry. Eventbrite will collect the event registration data for Font Communications, who are coordinating the event on behalf the North West hosts (Local Energy North West Hub, the five North West Local Enterprise Partnerships - Cheshire & Warrington LEP, Cumbria LEP, Greater Manchester LEP, Liverpool City Region LEP and Lancashire LEP - Liverpool City Region Combined Authority and Greater Manchester Combined Authority).
Your information will be stored in accordance with Data Protection Legislation. It will be shared for security purposes with the host venue (The Heath Conference Centre), as well as to the North West hosts as outlined above. We will not share your data with any additional third parties unless we are required to do so by law.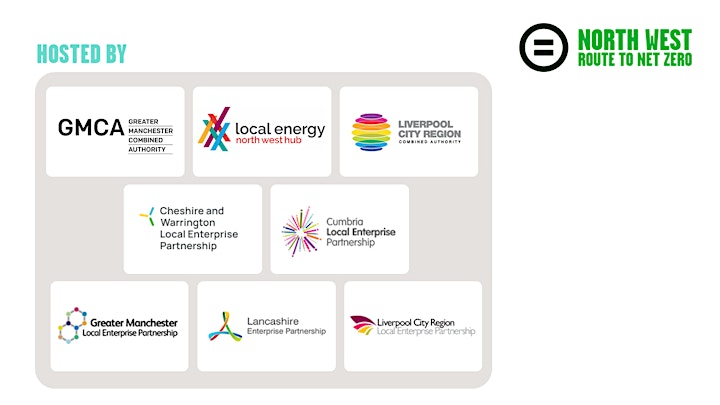 Organiser of COP26 Regional Roadshow: Powering the Green Industrial Revolution