Join us for this hybrid business breakfast to discuss measuring and reducing supply chain carbon emissions in business.
About this Event
Scope 3 carbon emissions are gaining increasing attention from both industry and Government. It is now recognised that they make up a large fraction of the emissions in any business.
Many businesses are committing to carbon neutrality with Scope 1 and 2 emissions, where the numbers are smaller and easier to measure - but what about Scope 3, the largest of them all?
One of the hardest parts of Scope 3 is understanding and measuring a business' supply chain emissions. How do we measure, reduce, and (lastly) offset our supply chain?
Join us for this hybrid business breakfast to clear the carbon confusion.
We are welcoming Network members Plannet Zero, Anthesis and Arbor Architects to speak at this event.
More information to be announced.
Government guideline and pandemic dependent, this event will take place physically and virtually. Both options offer the full event experience, including networking, Q&A and our famous 60 second pitches. Virtual attendees will need to B-Y-O-Breakfast!
If you purchase a physical ticket but the event is moved fully online, you can choose to have your ticket fully refunded or attend virtually with a partial-refund.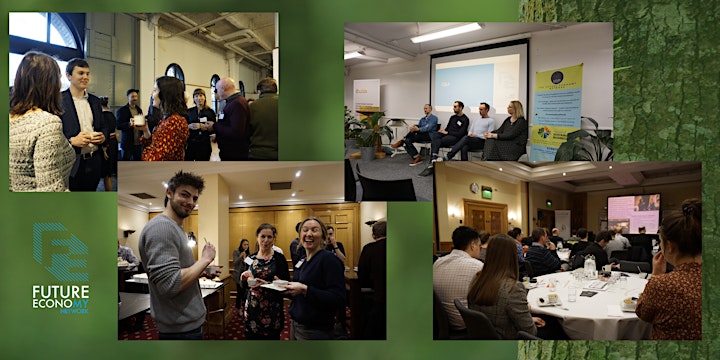 Elly Deacon Smith and Matt Hayes, Founding Directors, Arbor Architects
As our buildings become higher performing and more energy efficient, embodied carbon emissions from their construction and re-fit start to outweigh the emissions associated with operating them. In order to meet carbon reduction targets, we therefore need to interrogate the materials we're specifying and ensure our supply chains are working hard to reduce emission associated with processing raw materials, transporting and manufacturing them into the components delivered to site. Elly and Matt will be exploring some of the ways in which, as designers, we can reduce these emissions and ensure we are avoiding carbon hotspots in our supply chains.
Agenda
07:45 – 08:10 - Registration, Breakfast and Networking
(Online Attendees: 07:45-07:50 – Registration, 07:50 - 08:10 – Facilitated Group Networking)
08:10 - 08:20 - Introduction
08:20 - 08:35 – Plannet Zero
08:35 – 08:50 – Elly Deacon-Smith, Arbor Architects
08:50 - 09:05 - Holly Brown, Anthesis
09:05 - 09:35 - Questions
09:35 - 09:40 - 60 Second Pitches
09:40 - 09:45 - Close
09:45 - 10:15 - Networking and Refreshments – Lessons Learned
(Online Attendees: 09:45 - 10:00 – Facilitated Group Networking – Lessons Learned)
Meet The Speakers!
Elly Deacon Smith and Matt Hayes, Founding Directors, Arbor Architects
Arbor Architects is based in Herefordshire. The practice has a strong focus on using bio-based materials, creating tactile, enriching and healthy internal environments and ensuring materials can be easily reused or recycled at the end of their useful life.
Both Elly and Matt have extensive experience of delivering architecture with a low environmental impact; considering both embodied and operational carbon, as well as resource efficiency and regenerative design principles. They also have a strong focus on community design and works closely with their clients to create socially conductive neighbourhoods and holistically sustainable communities.
----------------------------
Want to Know More?
If you would like to join our sustainable business community please get in touch via info@futureleap.co.uk or sign up easily here.
Follow us on Facebook, Twitter, Instagram & Linkedin
Never miss what's next in sustainability by signing up to our monthly newsletter HERE
Opportunities, Suggestions and Conditions
Physical attendees must adhere to all safety guidelines sent in advance of the event.
You can get 20% off your next online event with us by choosing the add on option during booking.
Most of our events are available on demand here, however this does not include opportunities to network, take part in the discussions or do a 60 second pitch!
We will share your name, job title & company with the other event attendees for this event only. If you don't want this information to be shared please let us know when you have purchased your ticket.
We take photos at our events for marketing purposes, if you don't want your picture taken please let us know in advance.
We record some of our events for marketing purposes, if you don't want to be in the recording please let us know in advance.
We have included a £1 carbon offsetting fee to all event tickets in our commitment to being carbon neutral in our operations. You can find out about our chosen charity here.
Please let us know at least one week in advance if you require closed captions or have any other accessibility needs.
If you require a complimentary carers/assistant ticket, please email events@futureleap.co.uk at least one week in advance and we will be happy to support you!
#wegrowthhub #business #seminar #sustainable #sme #bristol #businesswithpurpose #climateemergency #betterbusiness #climatechange #businessresilience #sustainablefuture #carbonneutral #carbonreduction #supplychain #scope3 #embodiedcarbon #carbonreduction #carbon #networking