Description
Casa Ali food gatherings are growing in scope. With the passing of each day, harvesting sunflower seeds is becoming more of a fantasy for me and a concrete reality for the wild ringneck parrots! Crocosmia in my garden has already gone rust. Marjoram and thyme are bee magnets at the moment, courgettes are still plentiful, tomatoes are ripening each day and beans and chard would be on the menu along with wholesome potatoes.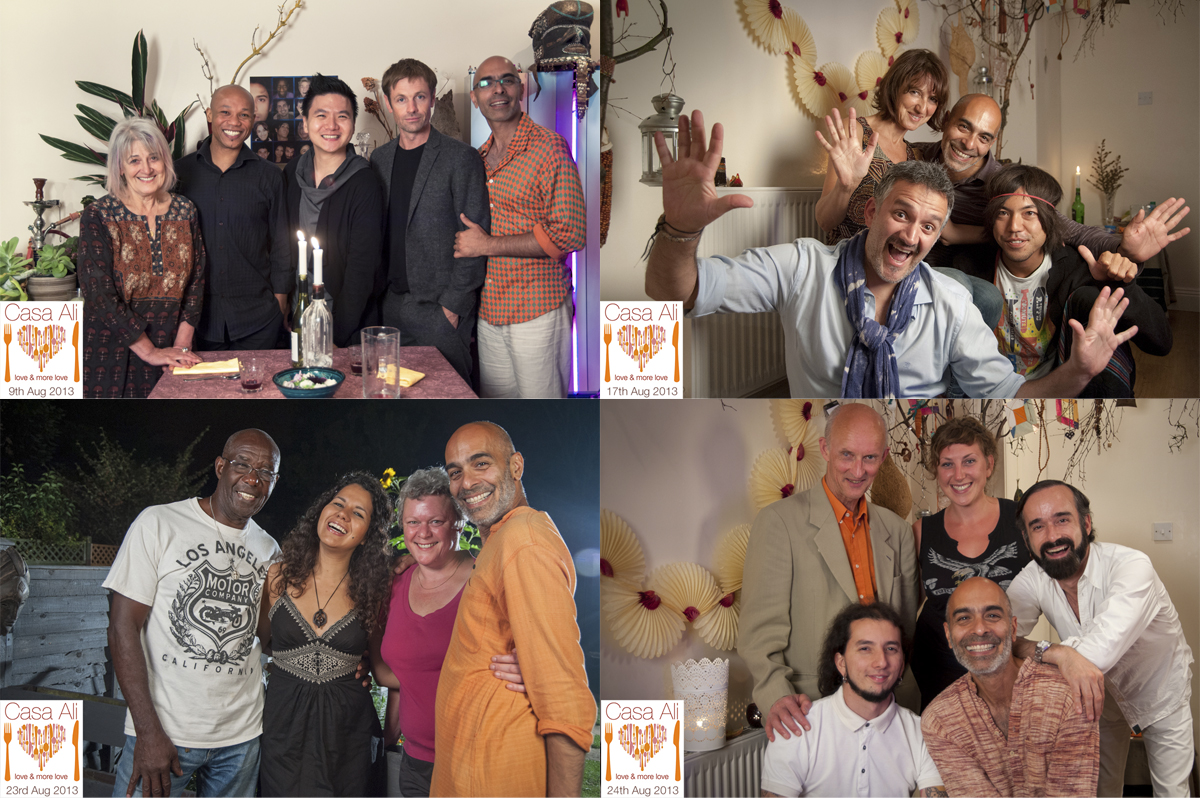 Guests at Casa Ali were from far and wide; Guadeloupe, Italy, Japan, Jamaica, Malaysia, Norway, Spain, Venezuela, United States and the UK. So pleased two of my fellow allotment holders could attend too!! Amongst many memorable moments from these four gatherings were receiving two new gifts for my memory tree and one of the guest brought tomatoes and sweet peppers cooked by his sister. Mum and my neighbours got to taste it too and they loved it! Having foraged black berries from my local country park, I have made it into a delicious sauce/spicy jam to tickle the palates for a few months to come.
Saturday 27th September 6.30 – 10.30pm Mixed menu
All at a fixed price of £27. Please note, there is glass of non-alcoholic drink for everyone on arrival but if you would like to drink more, please bring a bottle BYO (bring your own booze)
The 5 course treat for this dinner are as follows
Plantain, karela, chickpea, beetroot

Scallop, plums, apples, peas and mushroom

Potato and tomato soup with beans and caramelised garlic with toasted seeds

Mackrel, prawns, plantain, squash, swiss chard and toasted seeds

Dessert: Black rice, home made cheese, blackberry and bitter almond.
You can view images from the august dinners here http://on.fb.me/16Ca2Jr
View the post on my blog http://alizaidiarts.com/casa-ali-september/
Read what the visitors have to say http://bit.ly/16J8VJr
The venue is a ten minute walk from Norwood Junction, London SE25 and Norwood Junction is itself only 11 minutes away from London Bridge. There is free parking available in the street. The address will be emailed out only after the confirmation of your purchase.
Looking forward to seeing you then.
Ali Zaidi
Organiser of Copy of Copy of Casa Ali ~ 27th September Mixed menu dinner
Casa Ali is a supper club where Ali Zaidi's art and life intuitively converge. At his Southeast London home, guests are invited every fortnight to what he calls 'gatherings of love and more love'. He chooses not to give his dishes any names. The recipes are seldom repeated as if the dishes are all a work in progress. Each time some new flourish is added or an ingredient is changed making the food taste totally different.
"I concoct mixtures of imagined memories and tastes and open up my casa. It is an act of trust and intimacy on both sides. My passion that goes in the making of food, once consumed, animates and reflects the passion of the guests. There is an exchange of love. Those who break bread at Casa Ali take a little of me with them. To see them blossom fills me with an inexplicable joy". Ali Zaidi