Description
Join us for the opening night preview party of new paintings by the acclaimed French artist Nancy Delouis, accompanied by colourful canapés inspired by Nancy's works, drinks bar and music. Nancy will also be joining us for a talk and tour of the exhibition.

Distantly related to Rodin, Delouis received no formal artistic education and her talent was left to develop unconstrained. She admits to painting instinctively and like Bonnard, one of the artists who has most influenced her work, ambience is more important than drawing. For this reason she paints directly onto her canvasses without any preliminary sketching. Delouis celebrates the role of the woman at the very soul of the home, whether at washing, in the kitchen or sewing, all set in an atmosphere of peace, gentleness and beauty. Her work is infused with light and saturated colour.

Delouis was born and continues to live and paint in Limoges, she has had many group and solo exhibitions in France as well as in the UK, USA, Canada and Russia.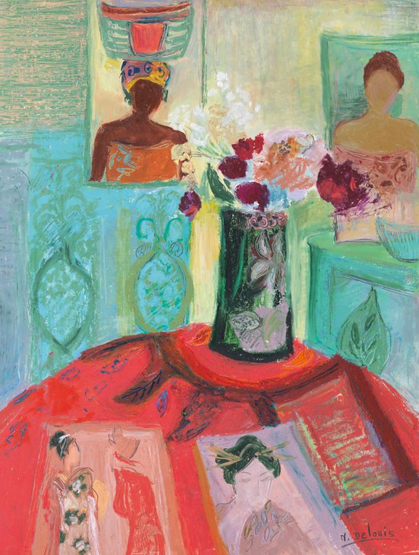 Organiser of CORK STREET PARTY: Preview of Nancy Delouis
Messums Wiltshire is a pioneering multi-purpose gallery and arts centre, a destination for experiencing modern and contemporary art, design, performance and education. 
Set in the heart of rural Wiltshire in an area of outstanding natural beauty, Messums Wiltshire uses the unique space and context of the 13th century barn,the largest of its type in the country, for a exhibitions, performances and events that celebrate the creative instinct.
Free parking. Disabled Access. 
Transport direct from Waterloo to Tisbury. 1h 40mins.