Cornwall Community Flood Forum welcomes you to our 2020 conference, online! Join us Friday 6th November to explore past, present and future.
About this event
In November 2010 fifteen communities were victim of widespread flooding across Cornwall, with over 300 properties affected.
A multi-agency effort supported those communities to recover, pulling together a range of professionals and community leaders. Rather than dissolve this team at the end of the process, Cornwall Community Flood Forum (CCFF) was established.
November 2020 therefore marks our 10-year journey of development, alongside a number of community flood groups which are still operating today. We will be celebrating this achievement and all the hard work undertaken across Cornwall on our one-day virtual conference!
The recent global pandemic has demonstrated how community groups are able to spontaneously pull together and work cohesively to reduce the impacts of emergencies. Beyond COVID-19, we have also witnessed another wild and wet winter, and this summer the unseasonable arrival of Storm Ellen.
Presented to you will be the issues we need to tackle together, as well as what we can do to become better prepared for future flood and severe weather events. We'll hear from the 'Queen of Floods' Mary Dhonau, Cornwall Catchment Partnership, Lostwithiel Flood Group, local flood risk management experts and the team working on the new Property Flood Resilience Pathfinder project, plus others.
THANK-YOU to all our guest speakers for their time and support to this year's conference. Be sure to book soon,
See you in November!
AGENDA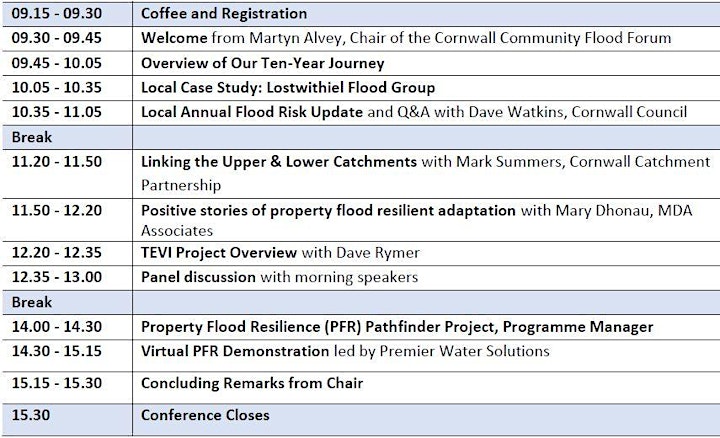 About Tevi
Tevi is an ERDF-funded programme supporting Cornish SMEs to grow whist contributing to Cornwall's environmental growth priorities and circular economy transition. Tevi currently supports over 300 enterprises through bespoke consultancy services, challenge networks and a grant scheme. Tevi is delivered by the University of Exeter in partnership with Cornwall Wildlife Trust, Cornwall Council and Cornwall Development Company.