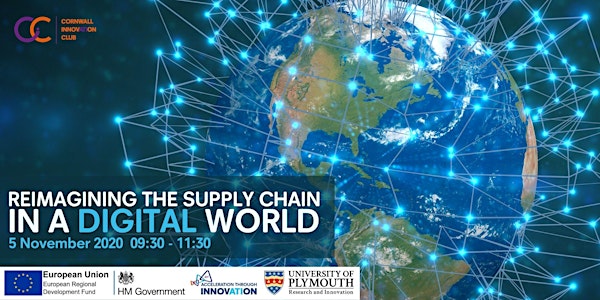 Cornwall Innovation Club - Reimagining the Supply Chain in a Digital World
Delivered by ATI² and the Cornwall Chamber of Commerce, the Cornwall Innovation Club is a bi-monthly, fully-funded networking event.
About this event
The Cornwall Innovation Club facilitates bi-monthly networking breakfasts which feature inspirational speakers. These mornings are designed to inspire ideas and create the opportunity to mix with other influential business leaders – encouraging valuable partnership and collaboration between Cornish businesses.
Recent events have flagged up more than ever how important it is to have a robust supply chain that can meet customer demands. Kim Conchie (CEO, Cornwall Chamber of Commerce), Barry Linnard (Independent Systems and Management Consultant) and Wo King (Founder and CEO of Hi9) will explore how the following global trends will transform supply chain efficiency, effectiveness and experience:
Integrated, customer-centric and agile supply chain business process delivery
Increasing adoption of digital technologies
Leveraging of data and analytics
After the speakers, there will be a Q & A session with the panel followed by an opportunity to network with other attendees.
The event is part of the Cornwall Festival of Business (organised by the Cornwall Chamber of Commerce).
Kim Conchie, CEO of the Cornwall Chamber of Commerce is a true Cornishman at heart, maintaining the organisation's place at the centre of Cornwall's business community, with his hard work and dedication being recognised in November 2019 when he was appointed as Deputy Lieutenant of Cornwall.
Since his appointment as CEO in 2012, Kim's business acumen and approach of extending ambition, redefining purpose, motivating teams and improving performance has enabled him to grow the Cornwall Chamber of Commerce to encompass a specialist team that offers an extensive range of services, from export market expertise to a vibrant mix of networking events, as well as being very much the voice of business in Cornwall on a regional, national and international scale.
Barry Linnard, Independent Systems & Management Consultant
In the early years of his working life Barry was tasked with devising systems to support an international supply chain of spare parts to a group of UK distributors of imported heavy commercial vehicles. This was in the time before PCs, The internet, Word Processors, Spreadsheets, Email or Mobile Phones. These were pioneering times but he did it.
Since then Barry has practised as an Independent Systems and Management Consultant for over 30 years. He has advised and supported clients in multiple industries in the specification, selection and implementation of computerised systems to support a wide range of business processes in both the public and private sectors. The most significant change has been the globalisation of business, with supply chains stretching around the world.
Wo King, Founder and CEO of Hi9
Founder & CEO of Hi9, a Cornish AI tech business, has over 20 years of experience in technology and has dealt with clients across multiple sectors including travel, hospitality, working with major banks including UBS & JP Morgan, plus contributing to research projects with top universities including Plymouth & Kings College London. 
Hi9 was developed from a Google Launchpad project & Wo still has close links with some of their leading engineers. Currently he is offering a range of workshops & webinars that showcase his knowledge & skills in emerging technologies. One area that Wo specialises in, is creating voice user interfaces with smart speakers & chatbots, such as an Amazon Alexa or Google Home Hubs, to enhance & broaden business opportunities. The capabilities of audio digital assistants are growing day by day & Hi9 is a company that is innovating within VUI, to help support both the public & private sectors. During the current crisis, no-touch tech is a viable alternative & provides solutions on multiple levels across multiple industries. Its adaptability is a key component to keeping businesses up & running during the pandemic.
Want to join the club? The Cornwall Innovation Club is run by ATI² in partnership with Cornwall Chamber of Commerce. Register for this event to find out more about our membership package, which includes a number of benefits: complimentary breakfasts, exclusive networking opportunities, 20% Cornwall Chamber discount and more.
Delivered by ATI², 'Cornwall Innovation Club: Adapting to Change' is a fully-funded webinar. Funded by the European Regional Development Fund (ERDF), ATI² is 3-year £3.4 million project led by the University of Plymouth which supports business innovation across Cornwall and Isles of Scilly.
Please tick when registering if you are happy for your data to be shared with:
Kim Conchie (Cornwall Chamber of Commerce)
Barry Linnard (Independent Systems & Management Consultant)
Wo King (Hi9)
We always like to look after you at events and in this new world of virtual events, attendees have to provide their own refreshments and look after themselves. With this in mind we are going to treat the first 25 Cornwall Innovation Club Members who register for our Reimagining the Supply Chain in a Digital World event. Just add a delivery address when you register (we'll assume your work address unless you also provide your home address) and we'll deliver something special to your door, all ready to enjoy during the event. If you aren't already a member of our Cornwall Innovation Club, then when not join up today via our website and then register for the event.
The sign up form for the CIC can be accessed here: