Description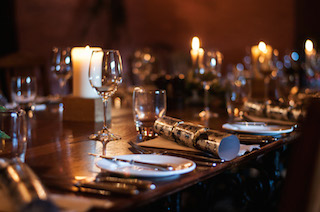 Please join us to celebrate another successful year for the Corsham Chamber Of Commerce and meet other local business people in a relaxed setting at Guyers House Hotel on Wednesday, 13 December 2017 from 12.30pm.

Both members and non-members are welcome.The charge for 2 courses and coffee/tea with homemade mince pies will be £30 for members and £35 for non-members.
At time of booking you will need to let us know your choices from the main coursess and desserts listed below as well as any food allergies. Please email your menu choices to Colette at support@corshamchamber.co.uk.

---
Corsham Chamber Of Commerce Christmas Lunch Menu Choices
Main Courses
* Roast Turkey, Chestnut & Roast Satsuma Stuffing, Smoked Chipolata & Bacon, Roasted Potatoes with Thyme & Garlic, Smoked Parsnip Purée
* Braised Blade of Beef, Garlic & Thyme Fondant Potato, Creamed Cabbage, Beef Glaze, Salt Baked Beetroot
* Baked Hake with Cured Lemon, Red Onion & Pumpkin Rosti, Braised Celery, Brown Shrimp, Tarragon Beignet
* Caramelised Parsnip, Red Onion & Savoy Cabbage Roulade, Potato & Chestnut Fritter, Red Wine Reduction, Sage and Onion Purée
All served with Seasonal Potatoes & Vegetables
Desserts
* Warm Pear and Mince Tart, Clotted Cream, Spiced Pear Purée, Plumped Raisins
* Iced Milk Chocolate Parfait, Raspberry Frangipani, Almond Custard,
* Orange Cake, Lemon Curd, Vanilla Ice Cream, Orange and Grand Mariner Compote
* Christmas Pudding, Sherry Custard, Cranberry Parfait, Cinnamon Tuille
Followed by Tea or Coffee and Mini Mince Pies
---