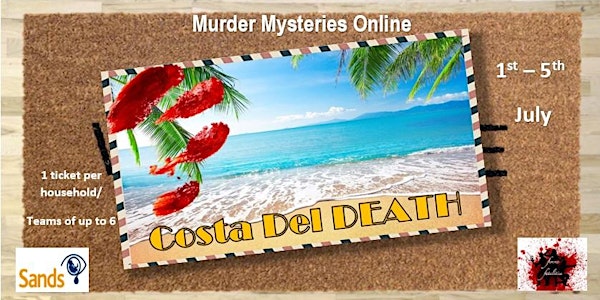 Costa Del Death by Femme Fatalities Murder Mysteries Online
A 5 day murder mystery you can play in the comfort of your own home & at your own pace. One email a day with videos, clues, puzzles & more.
About this event
**** PLEASE NOTE THAT GAME PLAY EMAILS ARE SENT FROM ****
**** femmefatalitiesmmo@gmail.com NOT FROM EVENTBRITE. ****
****PLEASE CHECK SPAM/PROMOTION FOLDERS IF YOU HAVE NOT RECEIVED AN EMAIL ON DAY 1 OF GAME PLAY.****
**When purchasing your ticket (1 ticket per household/team of 6), you will have the opportunity to add a donation to our chosen charity SANDS a parent bereavement charity that is very close to our hearts. So please do consider giving if you can.**
Many thanks
The Femme Fatalities Team.
***REVIEWS***
"you've got to watch one of these 'Who-dunnits?' the actors, scenes and music are great... You wouldn't believe that there are only 3 people!... I thoroughly enjoyed it and would definitely do one again!"
"It was so much fun and great for the whole family to take part in! Really entertaining throughout, we loved it! The first time we have tried a murder mystery online and would definitely do it again! Would highly recommend!"
1st time we've tried this murder mystery event online! These guys are amazing, so much fun... highly recommended for a bit of family fun or with a group of mates"
"Recently played this game. Absolutely loved it. Amazing story. Kept me intrigued all week. Really cleverly done. Amazing acting. couldn't recommend it enough. Such good value for money. Will definitely do another one."