Description
Join Kevin Hickson and Beth Smith, renowned Inkwell artists, and learn how to create beautiful drypoint etchings using inks and watercolours with stunning effects over three weekly sessions at Inkwell.

This three week course forms part of The Cotman Project where the community has been invited to respond to the famous works by British watercolour artist John Sell Cotman. Work created in the workshops have the opportunity to be exhibited as part of our Light Night Exhibition in Leeds Central Art Library and also an exhibition at the Love Arts Festival in October.
More information about the project can be found here : http://www.inkwellarts.org.uk/artists-respond-to-the-work-of-john-sell-cotman-in-a-new-community-arts-project/
TICKETS:
£10 concessions ( anyone receiving benefits)
£25 Adults
AGES 16+
Course dates are as follows:
Weds June 14th: 12.30pm - 3.30pm
Weds June 21st: 12.30pm -3.30pm
Weds June 28th: 12.30pm -3.30pm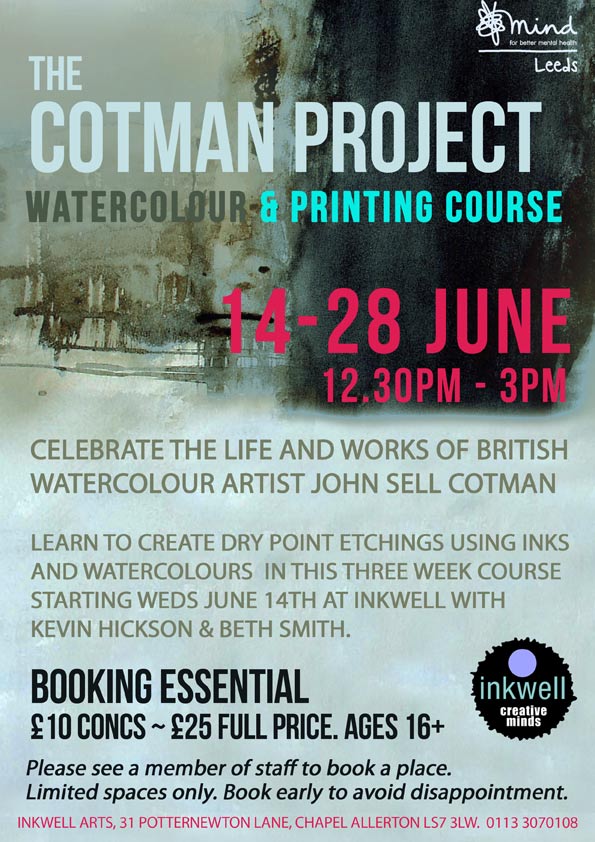 Wheelchair Access.
Parking at side of Building.