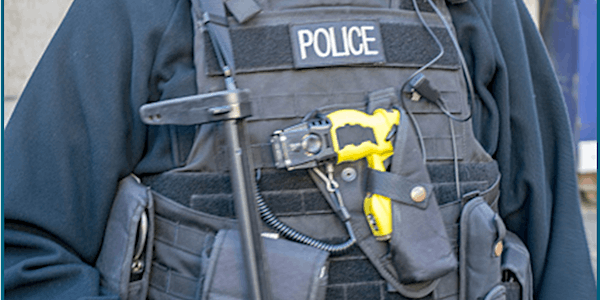 Counter-Terrorism and Citizenship: Policy, Policing and Community Insights
Location
Leeds Trinity University - AG55 (Conference room)
Brownberrie Lane
Horsforth
LS18 5HD
United Kingdom
Bringing together expert speakers on Prevent/counter-terrorism to explore ongoing policy and policing challenges and community impacts.
About this event
The event will feature 12 short presentations and 3 roundtable 'interventions' on policy, community and policing. Interventions will involve challenging questions to address ongoing concerns by drawing together cutting edge research and professional insights through the lens of social justice, human rights and anti-racism.
Planned panels (see below for the draft programme)
The Prevent Duty and Education
The People's Review of Prevent
Radicalisation
Securitising Muslims and Community Impacts
Policing Muslim Communities
Poetry performances - I am thrilled to announce that Suhaiymah Manzoor-Khan will be performing her excellent poems, 'P-P-P Prevent' and 'British Values'
Book showcase - promotional discounts available for all attendees:
We are delighted to finish the event with networking opportunities and a 'book showcase' of must-have new works featuring:
Suhaiymah Manzoor-Khan's Tangled in Terror: Uprooting Islamophobia (Pluto Press, 2022)
Dr Rizwaan Sabir's The Suspect: Counter-Terrorism, Islam and the Security State (Pluto Press, 2022)
Dr Leonie Jackson's The Monstrous and the Vulnerable: Framing British 'Jihadi Brides' (Hurst, 2021)
Dr Madeline-Sophie Abbas' Terror and the Dynamism of Islamophobia in 21st Century Britain: The Concentrationary Gothic (Palgrave, 2021)
Food and refreshments will be served - BOOKING REQUIRED (halal, gluten free, vegan/veg options available, please select when booking).
Event programme
Registration from 9.00am (tea and coffee, biscuits/pastries/fruit)
Introductions – 9.45am-10.05am
Dr Maddy Abbas, Dr Tamsin Bowers-Brown
Prevent Duty and Education - 10.05am-10.35am – chair Syra Shakir
Professor Emeritus John Holmwood - From the Trojan Horse Affair to the Prevent Duty
Professor Paul Thomas – The Prevent Strategy in Education: Safeguarding the 'vulnerable'?
Poetry - 'P-P-P Prevent' performed by Suhaiymah Manzoor-Khan
Break 10.50-11.05 (tea and coffee, biscuits, pastries)
Radicalisation/Deradicalisation -11.10am-11.55am
Dr Paul Jackson - Extreme right accelerationism and hypermasculinity
Professor Hilary Pilkington (collaboration with Dr Ajmal Hussain) - Why wouldn't you consult us? Reflections on preventing radicalisation among actors in radical(ising) milieus'
Dr Gordon Clubb - Public Support for Prevent and De-Radicalisation
Intervention 1: policy (roundtable discussion) – 12.00pm-12.30pm
Lunch – 12.30-1.15pm
Securitising Muslims and Community impacts (1.15pm-2.00pm)
Dr Leonie Jackson - Saving 'vulnerable' Muslim girls: Gendered understandings of radicalisation
Suhaiymah Manzoor-Khan - Tangled in Terror: Uprooting Islamophobia (title tbc)
Dr Zin Derfoufi - Prevent-ing Dissent: How the U.K.'s counterterrorism strategy is eroding democracy
Intervention 2: community (roundtable discussion) – 2.05pm-2.35pm
Break – 2.35pm-2.55pm (tea and coffee and cake)
Policing Muslim Communities (2.55pm-3.55pm)
Dr Rizwaan Sabir - The Suspect: Counter-Terrorism, Islam and the Security State (title tbc)
Dr Waqas Tufail - Policing Muslims: Counter Terrorism and Islamophobia in the UK and Australia
Tufyal Choudhury - Prevent and the policing of the non-criminal space
Dr Maddy Abbas – Prevent and Pre-crime: The role of the police in Prevent
Intervention 3: policing (roundtable discussion) – 4pm-4.30pm
Summary, closing remarks and future work (Maddy Abbas) - 4.35pm- 4.55pm
Poetry - 'British values' performed by Suhaiymah Manzoor-Khan
Please complete a short evaluation form
Book/report showcase and networking (tea/coffee/juice and canapes) - 5pm-6pm
Getting here:
The event will take place at Leeds Trinity University - Brownberrie Ln, Horsforth, Leeds LS18 5HD, room AG55.
Horsforth train station is a 12 minute train journey from Leeds train station with trains roughly running every 30 minutes (but note they don't always run to time!).
Leeds Trinity is about a 15-minute walk from Horsforth station or there is a regular free shuttle bus (see link to the timetable below).
If you are planning on driving, please indicate this on the booking form - parking is limited but will be arranged as far as possible.
Parking (updated info)
You are able to park for free anywhere on campus.
Campus Map:
Campus Map (Leeds Trinity University) - look for AG55 (or ask at reception who will be able to direct you or one of the facilitators - Maddy Abbas, Syra Shakir, Shames Maskeen)
Prayer facilities - a multi-faith prayer room is available on the same corridor as AG55 (please see the campus map or ask if you are unsure where to find it). You are very welcome to use this space throughout the event.
Free bus shuttle timetable from Horsforth Station to Leeds Trinity University Campus:
Free shuttle bus timetable - Horsforth station to Leeds Trinity University campus
Should you have any questions/require further assistance, please contact the organiser: m.abbas@leedstrinity.ac.uk
Speaker Biographies
Madeline-Sophie (Maddy) Abbas is a Senior Lecturer in Sociology and Criminology Policing currently at Leeds Trinity University in the School of Criminology, Investigation and Policing but will shortly be taking up a Senior Lectureship in Sociology at Lancaster specialising in anti-racism and decolonisation. She completed her PhD in Sociology at the University of Leeds, funded by a University Research Scholarship. Key strands in her work are critical race and whiteness studies, Islamophobia, security and surveillance, counter-terrorism, and migration. Previous posts include Lecturer in Sociology at the University of Manchester and Research Associate at the University of Cambridge, UK. She is the author of Terror and the Dynamism of Islamophobia in 21st Century Britain: The Concentrationary Gothic (Palgrave, 2021). She is currently conducting a Research England policy support fund project exploring the impact of Prevent and related legislation on British Muslims' experiences of citizenship.
Zin Derfoufi is a criminologist at St Mary's University, London. His research blends psychology with sociology to understand why and how people engage in serious violence, including politically motivated attacks, and how local communities organise to counter violence. He is an independent advisor to various community-led and civil society groups as well as local and national policing bodies.
Tufyal Choudhury is Associate Professor of law at Durham University, a Senior Research Fellow on Security and the Rule of Law at the Bingham Centre for the Rule of Law and Senior Affiliate for the Canadian Terrorism, Security and Society Network. He also advises the human rights NGO Rights and Security International in relation to global and UN counter-terrorism policies.
Gordon Clubb is a Lecturer in International Security at the University of Leeds in the UK. His research focuses on de-radicalisation, conceptualising it as a social process, and on the role of former combatants in preventing and countering violent extremism. His most recent book called Social Movement De-Radicalisation and the Decline of Terrorism: The Morphogenesis of the Irish Republican Movement (2017) was published with Routledge. Other published books include Terrorism and Political Violence (2015), and Hezbollah: From Islamic Resistance to Government (2015). He is a Research Fellow at the German Institute for Radicalization and De-Radicalization Studies and is Co-Convenor of the British International Studies Association's Critical Terrorism Studies Working Group.
Ajmal Hussain (work featured but not in attendance) joined Warwick as Assistant Professor of Sociology in December 2020. Prior to this he was Research Fellow in Sociology at the University of Manchester, where he led the UK element of research and dissemination - with young Muslims in an urban setting - on a large Horizon 2020 collaborative project concerned with radicalisation, young people and equality. He has been recipient of a number of commendations and awards for the societal impact of his research. Ajmal obtained his PhD from the University of Manchester and also holds degrees in Politics and Contemporary History (Brunel, SUNY Brockport) and Race and Ethnic Relations (Birkbeck, London). Ajmal has held visiting fellowships at LSE Cities and Aston University.
John Holmwood is Emeritus Professor of Sociology in the School of Sociology and Social Policy, University of Nottingham. John acted as expert witness for the defence on professional misconduct cases brought against senior teachers in the Birmingham Trojan Horse affair. He is author (with Therese O'Toole) of Countering Extremism in British Schools? The Truth about the Birmingham Trojan Horse Affair (Policy Press, 2018) and co-chair (with Layla Aitlhadj) of the People's Review of Prevent.
Leonie B. Jackson is Senior Lecturer in International Relations at Northumbria University. She is the author of The Monstrous and the Vulnerable: Framing British 'Jihadi Brides' (2021, Hurst) and Islamophobia in Britain: The Making of a Muslim Enemy (2018, Palgrave). She serves on the editorial board of the journal Critical Studies on Terrorism.
Paul Jackson is Professor in the History of Radicalism and Extremism at the University of Northampton. His work has explored a wide range of historical and contemporary areas of extreme right activism including issues such as lone actor terrorism and contemporary neo-Nazism. His most recent book, Pride in Prejudice: Understanding Britain's Extreme Right synthesises a wide range of his own scholarship and the wider field to offer a panoramic survey of all aspects of the British extreme right space, past and present. His other books include, Colin Jordan and Britain's neo-Nazi movement: Hitler's Echo which mapped a wide range of extreme right cultures in Britain connected to a life-long organiser and campaigner. Finally, Paul founded and co-edits the Bloomsbury book series A Modern history of Politics and Violence, and is part of the editorial team of the Brill journal Fascism: Journal of Comparative Fascist Studies.
Suhaiymah Manzoor-Khan is a writer, poet, educator and activist, and the author of Tangled in Terror: Uprooting Islamophobia (Pluto Press, 2022). Her poetry performances based on her book 'Postcolonial Banter' have millions of views online and she was the National Roundhouse Poetry Slam runner-up in 2017. Suhaiymah has written for the Guardian and gal-dem and her work has featured across radio and TV stations. She has been commissioned to write plays by theatres including the Royal Court.
Hilary Pilkington is Professor of Sociology at the University of Manchester. She has conducted ethnographic research on youth and youth subculture, youth political participation, activism and extremism and was coordinator of the H2020 DARE (Dialogue about Radicalisation and Equality) project (http://www.dare-h2020.org/) (2017-2021).
Rizwaan Sabir is a Lecturer in Criminology at Liverpool John Moores University in the UK and the author of The Suspect: Counterterrorism, Islam, and the Security State (Pluto Press, 2022). His research, which is focused on examining British counterterrorism, was motivated by his wrongful arrest and detention for suspected terrorism when he was found in possession of the Al-Qaeda Training Manual he downloaded for his postgraduate research. In addition to briefing policymakers such as the Shadow Home Secretary, the United Nations, civil society and community groups as well as lawyers, he offers analysis and commentary in the broadcast and written media including BBC News, Sky News, and Al-Jazeera.
Paul Thomas is Professor of Youth and Policy and Associate Dean (Research) at the School of Education and Professional Development, University of Huddersfield. Paul's research interests focus on how policies such as the Prevent Strategy are understood and enacted by professional practitioners and on how they are experienced by communities. Paul's recent international research collaborations in North America focus on 'community reporting' of concerns about someone close becoming involved in terrorist planning and build on his CREST-funded 'Community Reporting Thresholds' study that informed the UK's 'Act Early' public campaign.
Waqas Tufail is a Senior Lecturer in Criminology in the School of Social Sciences. His teaching and research interests include policing, racism and anti-racism, Islamophobia/anti-Muslim racism and the racialisation and criminalisation of minority groups. Waqas serves on the Editorial Board of the Sociology of Race and Ethnicity journal and is a Board Member of the International Sociological Association (ISA) Research Committee on Racism, Nationalism, Indigeneity and Ethnicity. An activist and community organisation, Waqas is co-founder of the Northern Police Monitoring Project, a grassroots initiative that works with communities affected by police harassment, brutality and racism.