Description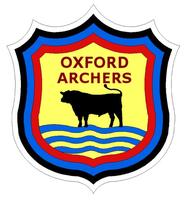 Oxford Archers hosting the
2018 County of Oxfordshire Archery Society Outdoors Championship
Sunday 24th June 2018
World Record Status WA 70m//50m rounds and head-to-heads
Non-record status AGB junior and novice rounds also available
Venue: Oxford Rugby Club, North Hinksey Village, Oxford OX2 0NA
Practice: starts at 9.00 am
Chairman of Judges: Steve Vallis
Fee: £10 for COAS members, £15 for non-COAS guests
Closing Date: June 17th 2018
Round: Recurves:WA 70m; Compounds: WA 50m. Juniors are welcome to shoot the adult round or age appropriate AGB distance equivalent; please select the appropriate option at checkout. Novice recurve /longbow/barebow may chose to shoot at 50m or the full senior distance; novice compounds will shoot the full 50m standard round. Novice champion awards will presented to the highest scores in discipline regardless of the round shot. The ranking round will be followed WA Head-to-heads in senior adult compound and recurve disciplines, with junior head to heads if entry numbers allow. Barebow and Longbow archers are welcome to enter the head to heads, but will be treated as recurves unless there are more than six in each category.
Shooting: Rounds will be shot in accordance with WA Rules of Shooting. Music will be played throughout the day. All archers will be shooting on foam bosses.
Practice: There will be 45 minutes of practice from 9.00 am. Equipment inspection will be carried out during practice.
Tickets: Tickets for COUNTY archers will be on sale first. We will open the sale of tickets for non-COAS guests on June 1st, provided the event has not sold out by then.
Catering: Bacon rolls will be available for breakfast. Hot and cold drinks and snacks will be available throughout the day.
Awards: Medals will be awarded according to entries.
Photography: The tournament will be covered by J&S Shoot Photography. If you do not wish images of yourself to be used by Oxford Archers and ArcheryGB in reporting and future promotion of the event please indicate this to the tournament organiser at registration.
Disabled access: Vehiclular access directly to the field is only available for Blue Badge holders and officials.
Special requirements: if you shoot from a stool or chair and require to remain on the shooting line please notify the tournament organiser when booking your entry. We ask that in these circumstances you provide an agent to assist with scoring and arrow collection; if you cannot provide an agent please advise us of this at least two weeks before the event so that we can delpoy our field crew accordingly.
Rules: ArcheryGB dress rule 307 will apply. Competitors will be liable for drugs testing. Competitors approached to give samples must comply, and any refusal will be treated as a positive result. Where an entry form contains one or more junior entries, the parent or legal guardian of each junior archer must countersign the form to signify consent to the junior being tested if so approached, or indicate their consent at the online entry. ArcheryGB membership numbers must be included in the entry, or proof that affiliation fees have been paid will be required before shooting commences. Since this is a playing field in use, all lost arrows must be found. It is the responsibility of each archer to find their lost arrows.
Oxford Archers and the ORFC, their agents or servants cannot accept responsibility for any loss, damage or injury howsoever caused. Entry to the tournament will be taken as acceptance of these conditions.
Data Protection Notice: When you enter competitions the following information may be collected and shared with tournament organisers, scoring systems and other competitors for example target lists and results may be published: First Name, Surname, Gender, Bow style, Date of Birth / Age category, Email, Address, Phone number, Club (and ID), County (and ID), Region (and ID), Round (unless defined by age), Disabled (Y/N), Disability info.
Organiser of County of Oxfordshire Archery Society Outdoors Championship 2018