Description
To coincide with Leeds Wellbeing Week, PresentationSkills101 has teamed up with A Space For to offer this one-off confidence workshop. Through our combined experience of coaching clients we know that the Number 1 issue that people have is feeling a lack of confidence. That feeling is what holds you back from making the decisions and taking the actions that can change your life and live to the fullest. By allowing that feeling to control your path, you condemn yourself to a life of comfort. A life where your potential remains unrealised. You become unable to be the person you always wanted to be - and you may not even see it until its too late.
In this content packed practical workshop Jen Mak and John Child will lead you through a series of techniques that will move you past your fears to a new feeling of confidence and possibility. Using a combination of coaching techniques, psychology and Neuro-Linguistic Programming, they will show you how to work with your mind to get fast and repeatable results. This workshop is a one-time only event and has limited space. It is free to attend but you will need to register your attendance.
Check out video testimonials from our previous workshop, "How to N.A.I.L. your first speaking gig" here.
Organiser of Courage to Confidence, part of Leeds Wellbeing Week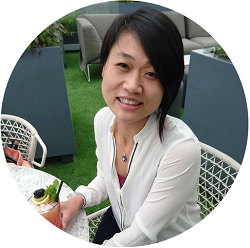 Jen Mak is a time management and personal effectiveness coach at A Space For. Working one-to-one and in groups, she enables people to declutter their time and what they pay attention to so that they create a space for what's meaningful to them. She does not seek perfection, but action, learn by doing, seizing present moments whilst engineering future opportunities. What has she seized recently? Speaking gigs! For a glimpse at how she skilled up for her first presentation, check this breakdown here.
Jen is the author of Stop Faffing and Start Doing and Keep Daring.
----------------------------------------------------------------------------------------------------------------------------------------------
Praise for Jen:
Jen is a very unique coach, to say she is inspirational would be too bland a comment as Jen has a depth and compassion that brings out the best in anyone who is fortunate to be in here presence. Her ability in making every person feel valued and special in whatever coaching environment is taking place, obviously brings great vision and confidence to the person(s) involved. Having spent the past 25 years coaching at various level and been coached by some incredible people, Jen Mak would always be classed as one of the best I've worked or have been involved with.
– Paul Abraham, The MMM Coach

Jen is an incredibly good listener, mindful and non-judgemental. She challenged me towards my goals and the coaching sessions we have had had a very positive impact on my productivity and mindset towards to-do-lists, and in such a very short amount of time! Jen provided very helpful time management tools I will keep using for the coming years too!
– Lucile Allen-Paisant, Founder of MindIt and Leeds Wellbeing Week
-----------------------------------------------------------------------------------------------------------------------------------------------
John Child, founder of PresentationSkills101, has been teaching people how to present their ideas and themselves for 20 years. He began his career designing presentations for GE Capital before specialising in management information and latterly in training and development. He is an expert in Neuro-Linguistic Programming and is highly regarded both for his work with individual clients and group sessions.
-----------------------------------------------------------------------------------------------------------------------------------------------
Praise for John:

'Information was presented clearly and was easy to understand and apply'
'The day was very positive, enjoyable, fun and not intimidating'
'This was a very useful, enlightening and fun day! It was relevent, well balanced and interesting. A good mix and well delivered!'
'Excellent afternoon, enjoyed the experience'
------------------------------------------------------------------------------------------------------------------------------------------------------