Courageous Conversations Live Join Caroline Pankhurst and guests to discuss yesterday and todays Women of Courage
About this Event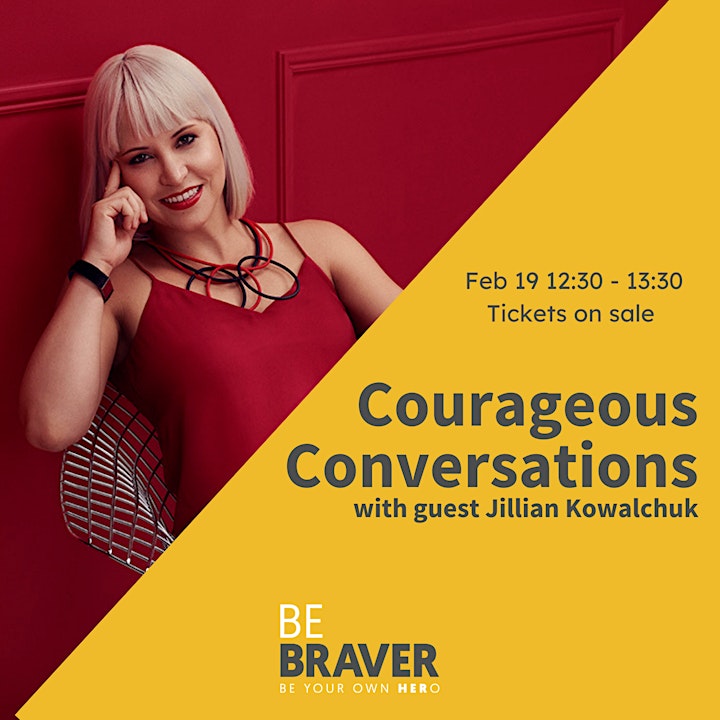 The second in a new series of conversations with Be Braver Founder and PhD researcher Caroline Pankhurst. Courageous Conversations Live will bring live interviews to audiences with a range of guests passionate about discussing the topic "Women of Courage".
Guests will share their own personal perspectives and experiences of courage as Caroline guides bold, brave and fearless conservation and discussion to explores the role of courage in leaders, innovators, change-makers and entrepreneurs.
This session will give a particular focus on the courage involved in taking to the stage and taking your messages, ideas, passions & business to large audiences.
An energising and inspiring end to the week and start to the weekend, scheduled specifically to give you time to reflect throughout the weekend on your own incredible capacity for courage.
Jillian Kowalchuk, BA, MSc is an award-winning entrepreneur as the Founder & CEO of Safe & The City, technology and data intelligence designing safety in digital and physical spaces. She was given the Exceptional Talent in Technology by the U.K. Home Office, winner of JCI Contribution to Human rights and was listed as the Top 20 Women in Data in the U.K.
She sits on the Commonwealth Businesswomen Executive Team and the Department for International Trade's Global Entrepreneurial Programme Female Founders Advisory Board.
Jillian is a TEDx speaker and business coach sharing her knowledge and experience of traveling to over 50 countries and breadth of knowledge on gender equality, tech4good, women in STEM to inspire and motivate others to take innovative action to solve meaningful problems. She holds an MSc in Public Health from London School of Hygiene & Tropical Medicine and BA in Psychology and currently resides in London.
Tickets are free to members of the be Braver Collective. Non members can purchase tickets to the event which can be redeemed against membership to the Be Braver Collective.