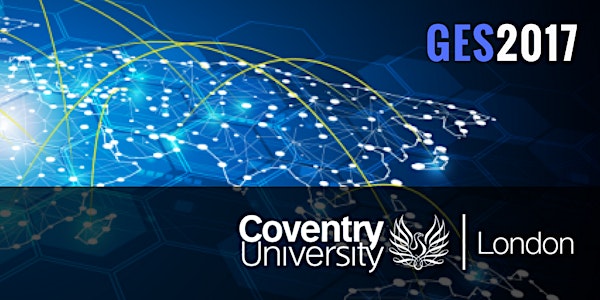 Coventry University London Global Energy Summit 2017
Event Information
Location
Coventry University London
109-117 Middlesex Street
London
E1 7JF
United Kingdom
Description
The Coventry University London Global Energy Summit (GES 2017) taking place in London Wednesday 26th July 2017 is a one-day summit for the energy, oil and gas industry. We offer a world leading forum where industry, government, academia and non-profits can engage, and connect to share knowledge with a capability to strengthen public policy, transform business practice, careers and academic capacity in a global context.
The summit will address latest developments, uncertainties, opportunities and strategies in the energy, oil & gas industry. Through a combination of intellectually stimulating keynotes, panel discussions and networking the summit will provide a platform to deliberate industry trends in an increasing uncertain world that calls for leadership.
The key discussion themes include the future of oil, strategies of key national, international and independent companies, geopolitics, insecurity, the effect of fluctuating oil prices, energy self-sufficiency, offshore, marine and gas technologies, climate change, finance and investments, decommissioning, competing conventional and unconventional sources, corporate social responsibility, philanthropy, infrastructure, game-changers, careers and human capital needs for the 21st century.
GES 2017 DISTINGUISHED SPECIAL GUEST, KEYNOTE ADDRESS, SPEAKERS, PANELLIST INCLUDE:
1. His Excellency Mr Macky SALL (President of the Republic of Senegal)
2. H.E Mr Paul Goa Zoumanigui (Ambassador,Republic of Guinea to United Kingdom, Republic of Ireland & Iceland)
3. H.E. Prof Cheikh Ahmadou Dieng (Ambassador of the Republic of Senegal)
4. His Excellency Dr. Ibe Kachikwu ( Minister of State Petroleum Resources, Nigeria & Chairman of Nigerian National Petroleum Corporation [NNPC])
5. Dr Maikanti Baru (Managing Group Director, Nigerian National Petroleum Corporation [NNPC])
6. H.E. Udom Gabriel Emmanuel (Governor of Akwa Ibom State)
7. Mr Kofi Addo (Minister-Counsellor, High Commission of the Republic of Ghana)
8. Dr Alex Vines OBE (Chatham House, Research Director, Area Studies & International Law; Head Africa Program)

9. Engr. Domingos Francisco (Director General of Angola National Institute of Petroleum [INP])
10. Clair Ward (Associate Director/Consultant Interchange Solutions, Frmr MP, Parliamentary Undersecretary of State for Justice Ministry of Justice)

11. Nichole McCulloch (Managing Director, Women in Mining [UK]; Managing Director, Clifton Hill Associates)
12. John Austin (Director AustIA Limited)
13. Davi Quintiere (Energy Lead, Slalom Consulting)
14. Kevin Nwanze (Head, Consulting & Technical Studies International Energy Services Ltd)
15. Mark Norris (Partner, Sullivan & Worcester LLP)
16. Tony Renton (Executive Chairman, Oil and Gas London & Co-Founder, EPEX Training)
17. Christopher Lloyd (Consultant, Petromall)
18. Maria Carvalho, MD (Research Consultant/London School of Economics)
19. Noel Haynes (Managing Director, InvestinGreen)
20. Daniel Brenden (Power & Renewable Energy Senior Analyst, BMI Research)
21. John Burbidge-King (CEO, Interchange Solutions Ltd)
22. Shwan Zulal (Managing Director, Carduchi Consulting)

23. Alfred Kovaci (Head of Strategic Partnerships Business Integration Partners [Bip])
24. Dr Edward George (Head Ecobank, UK Representative Office & Head of Group Research)
25. Dr Lillian Moaun (Senior Research Fellow, Transnational Law Institute, Kings College London)
26. Michelle Unger (Head Group Business Line, Rosen Group)
27. Claudiu Badea (HR Account Manager, Shell)
28. Piotr Konopka (Consultant Energy Practice Navigant; Chair EI-YPN)
29. Yodaly Sierra-Rubio (Business Development Manager CBRE; Vice-Chair EI-YPN; Director UKAEE)
Find summit programme here:
COVENTRY UNIVERSITY LONDON GES 2017 & ENERGY INSTITUTE YOUNG PROFESSIONALS NETWORK

Coventry University London GES 2017 in Partnership with the EI Young Professionals Network (YPN) will Jointly Host the GES 2017 Evening Keynote and Networking session on 26th July 2017.
View the evening session with the EI Young Professionals Network (YPN) here:
https://www.eventbrite.co.uk/e/millennials-in-the-energy-industry-ypn-at-the-global-energy-summit-2017-tickets-35967125641
GES 2017 PLANNED TIMINGS
1) 08.30am -18.00pm (Day Session)
2) 18.30pm -21.30pm (Evening Session)
Due to repeat enquiries, please note that GES 2017 is taking place within London, and we look forward to welcoming you to share knowledge within our university of educational excellence.
Speak or Lead a Panel – We aim to showcase cutting-edge game changing innovation and will explore a variety of topics in high-level interactive panel discussions. Got a game changing position to share? Get in touch and let's make this a reality.
Sponsor – Partner with us today and promote your organisations brand as one committed to energy, oil and gas, academic careers and human capital development by supporting our summit. With a high-level audience from around the world we provide some great opportunities to sponsor GES 2017 to positively enhance your brand. GES 2017 would like to acknowledge PT BNI.

Coventry University Accolades
UK's Top New University
Guardian University Guide 2018


Gold Rating for Teaching Excellence
Teaching Excellence Framework (TEF)

Ranked No. 12 UK University
Guardian University Guide 2018


Top 4 for Student Experience
The Times and Sunday Times Good University Guide 2017

Top 4 for Teaching Quality
The Times and Sunday Times Good University Guide 2017

95% of Graduates Employed or in Further Study
DLHE survey 2014/15 – six months after graduation

Coventry University London based in a city ranked top 3 worldwide, No. 1 in the UK
QS Best Student Cities 2017
Coventry University is a globally recognised quality and reputable awarding winning institution named 'Modern University of the Year' an unprecedented three years 2014- 2016. The university has successfully delivered the Oil and Gas Management MBA programme for several years and are delivering the MBA in Global Energy and Sustainability Management to aspiring and current energy professionals from countries around the world. This summit is another part of our efforts to further adopt, align and incorporate the diverse needs of industry, governments and academia into the energy future and thus enhance capacity building and professionalism.
Coventry University London 
Department of Accounting, Finance and Energy
University House, 109-117 Middlesex Street, London, E1 7JF
Tel: +44 (0) 20 7247 3666 / Mobile: + 44 (0) 7974 984021
Date and time
Location
Coventry University London
109-117 Middlesex Street
London
E1 7JF
United Kingdom